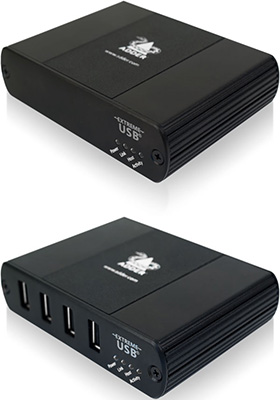 C-USB LAN
USB 2.0 extender over CATx (328 feet) or IP network, for remotely connecting 4 USB devices (drives, whiteboards) away from a user's work station
Read more below...

$576.00
MSRP: $640.00 -
You save $64.00

$508.00
MSRP: $565.00 -
You save $57.00
Transparent USB 2.0 extension over IP (Gigabit Ethernet LAN) or CATx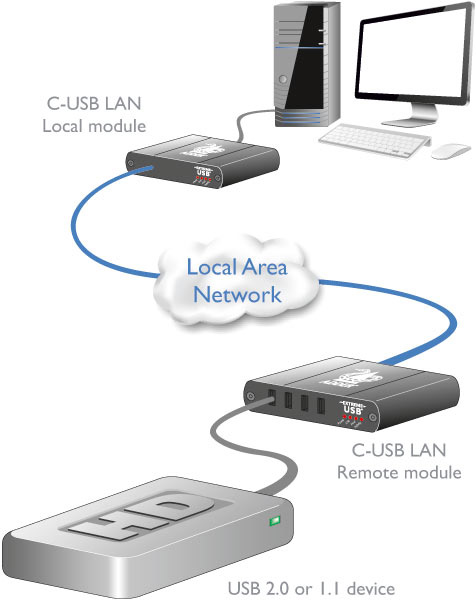 C-USB-LAN is a high performance USB extender that enables you to locate your critical computing hardware away from the user work station while maintaining the original user desktop experience. It can transmit USB 2.0 over a single CATx cable or via an 1GbE IP network.
C-USB LAN USB 2.0 extender modules allow you to connect up to four USB peripherals (such as flash drives, keyboards, mice and interactive whiteboards) using a standard Local Area Network (LAN) or a direct cable connection up to 328 feet (100m) in length.
The extender modules support USB devices that adhere to the version 1.1 and 2.0 specifications. USB 3.0 devices can also be used and they will operate in USB 2.0 compatibility mode (to a maximum speed of 480Mbps).
No special drivers are required and operation is totally transparent to the devices and to you, the user. Indicators on the front panels of each module provide useful feedback regarding operation.
USB 2.0
Enables connection of any USB human interface device - from mice and keyboards through to touch screens, graphics tablets, jog shuttles, joysticks and 3D explorers. Mass storage devices and isochronous devices such as webcams and headsets can also be used.
Transparent operation
Once connected, operation is totally transparent to the host system, the USB peripheral(s) and you, the user. There are no drivers to install and your USB devices work precisely as they did before; the only difference is that they are now up to 328 feet away from the host. There is no need for drivers or software to be installed.
Plug and Play
Adder C-USB-LAN extenders are delivered in a zero config state so you can plug the units in and start working with them straight away.
Integrated A.I.M. control
C-USB-LAN can be controlled and switched via the AdderLink Infinity Manager (A.I.M.), or it can operate separately, as a point to point USB extender using a single length of CATx cable.
API
An API is available, supporting all functionality to which authorized 3rd party control systems can interface.
Support for audio devices
With Isochronous support, C-USB-LAN will work with USB microphones and headsets as well as web cams.