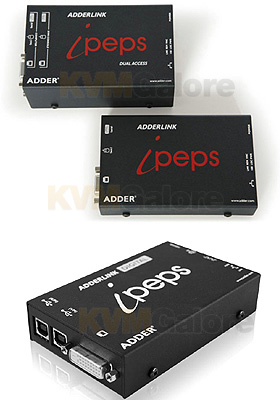 A platform independent KVM over IP gateway
supporting USB, digital or analog video, virtual media and power control
---
AdderLink iPEPS (IP Engine per Server) deliver a complete, secure, non-blocking approach to computer management.
A powerful and flexible KVM over IP product contained within a palm sized unit, AdderLink iPEPS enables computer access from anywhere in the world, securely and remotely via the Internet or corporate network. AdderLink iPEPS uses Real VNC client software that is specifically designed for secure, high performance KVM over IP applications.
Despite its small size, there is no compromise in the performance of AdderLink iPEPS. By using Adventiq Inside on-chip KVM over IP technology, an extremely high performance solution can be contained in a compact unit.
For Enterprise KVM solutions AdderLink iPEPS provides a non-blocking global solution by providing each computer with a dedicated KVM over IP engine. This can be enhanced by using ADDER.NET Enterprise Management Software that provides a centralised and secure user access management interface.
This platform independant device is ideal for server hosting companies who wish to offer KVM via IP services to their customers.
Increasing numbers of computers are being used in remote, stand alone applications such as ATMs and digital signage play out devices. The incredibly small size of AdderLink iPEPS makes it perfect for remote management and control of dispersed computers, meaning that many tasks that would have required an expensive site visit can now be done from anywhere.