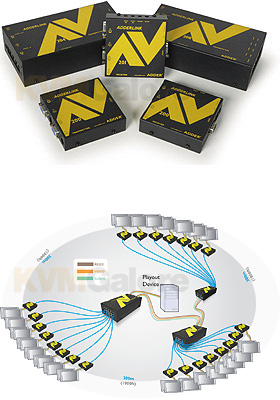 Distribute crisp, clear and bright VGA, CD quality audio and transparent RS232 from a single PC to 64 screens
up to 1000 feet from a play out device for digital signage and media streaming applications
---
AdderLink AV200 Series is a range of audiovisual extenders delivering high video resolutions, superb quality audio and RS232 up to 1000 feet using standard CATx cable (x=5,5e,6,7).
With full RS232 support video display panels can be controlled and interrogated remotely, making AdderLink AV200 series the ideal professional narrowcast digital signage solution.
The innovative design allows for flexible audiovisual distribution, management, control and interaction with the display devices which can be expanded to grow in line with project developments.
AdderLink AV200 series is supplied complete with Adder DM (Display Manager) software. This advanced application makes controlling VDU power, video and audio possible from the transmitter, as well as allowing you to interrogate video panel status and dynamics.
Consisting of 5 interchangeable units, AdderLink AV200 Series makes the design of digital signage and narrow casting applications cost effective, flexible and easy to plan.
• AdderLink AV200 Transmitter/Receiver Pair for point-to-point audio-video streaming.
• AdderLink AV200T – Single-port transmitter.
• AdderLink AV200R – A Receiver that duplicates input from Transmitter allowing for 2 video and 2 audio outputs.
• AdderLink AV201R – A Receiver with integrated skew compensation.
• AdderLink AV204T – 4-port Transmitter.
• AdderLink AV208T – 8-port Transmitter.