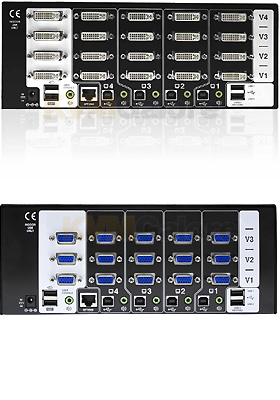 4-port dual-link DVI (high-def VGA) KVMA switches for dual- triple- or quad-head video
with USB peripheral sharing
---
AdderView PRO MultiScreen are designed to enable four multihead computers to be controlled from a single high resolution KVM console using either dual link DVI or high definition analog video links.
The switches make use of Adder's True Emulation technology which enables USB HID devices to be continuously emulated to each computer. This unique technology enables instantaneous and reliable hotkey switching while also supporting the extra keys and features of enhanced keyboards and mice.
Furthermore, the AdderView PRO MultiScreen include two independently switchable USB 2.0 channels and an audio channel, giving the user the flexibility to attach selected peripherals to different computers.
AdderView PRO MultiScreen feature Extended Display Identification Data (EDID) Emulation and advanced profile DDC ensuring that separate EDID data from each video display will be distributed through to the appropriate video adaptors within each computer. The extended DDC EDID profile ensures that the switched graphics card is always optimized to work with your screen.
The KVM, speakers and two separate USB devices attached to the AdderView PRO units can either be switched in unison, as normal, or you can mix your peripherals between any of the systems to suit your current tasks. For instance, you could be creating emails on one system, listening to a soundtrack from another while a third is sending documents to your printer and a fourth performing another task with a different USB peripheral.