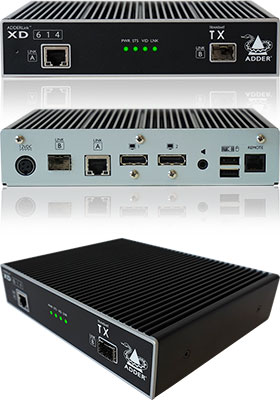 DisplayPort KVM extenders
over CATx or fiber
---
ADDERLink XD600 series of point-to-point DisplayPort KVM extenders allows you to reliably access and control target PCs, in real-time, from a safe and secure remote location.
With features such as single, dual and quad-head connectivity, emulated USB, copper and fiber support, MST functionality, visually lossless 4K/60 video and ultra-low latency, you can choose the right model to suit your requirements.
If you are looking to extend computer signals and take real-time control of your remote, critical PCs and applications then get in touch to discover more about the ADDERLink XD600 series.
XD614: Extended desktop (via MST) up to 4 screens (from a single DisplayPort source); local access; 1920x1200
XD641: Single video-head; local access; 4K-Cinema (4096x2160 @ 60Hz)
XD642: Dual video-head; local access; 4K-Cinema (4096x2160 @ 60Hz) via fiber; single 4K/60 or a dual 2560x1440/60 video via CATx