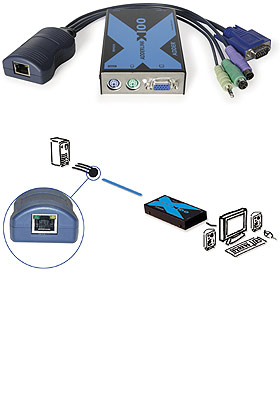 Short haul, fully featured, keyboard, video, mouse and optional audio extenders
for PS/2 and USB computers
---
AdderLink X100 has been designed for use in applications where keyboard, mouse, high quality video and audio needs to be extended no more than 330 feet over category 5 or higher UTP cable. The AdderLink X100 provides industry-leading video clarity, audio quality and compatibility.
Video performance
Industry leading resolutions of 1600x1200 are achievable up to 330 feet, 1900x1440 up to 165 feet.
Emulated DDC
Unless an extender actively supports DDC some well-known high performance video cards cannot be used at high resolutions. AdderLink X100 fully supports DDC.
USB Emulation
When using an X100 pair to extend a CPU with a USB keyboard and mouse interface, it is ensured that the keyboard and mouse are continually emulated for maximum availability and essential functionality such as country code reporting for Sun CPUs.
Brightness control
AdderLink X100 offers its own brightness correction to ensure images are crisp, clear and bright.
Audio
Optional digital stereo audio delivers high fidelity audio for speakers.
Variety of models available
To suit the maximum possible number of applications AdderLink X100 is available in a number of models:
• PS/2 and video
• PS/2, video and audio
• USB and video
• USB, video and audio