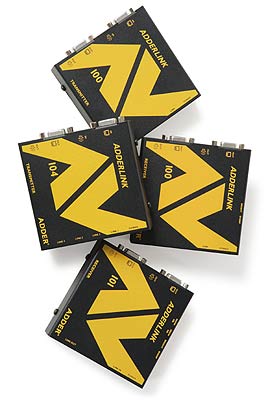 AdderLink AV100
High-resolution video and superb quality audio extension and distribution over CAT-x cable for digital signage and media streaming applications
Read more below...

$193.49
MSRP: $215.00 -
You save $21.51

$292.00
MSRP: $325.00 -
You save $33.00
Audiovisual splitters and extenders up to 1000 feet using standard CAT-x cable (x=5, 5e, 6, 7)
delivering high video resolutions and superb quality audio
---
The innovative design allows for flexible audiovisual distribution that can be expanded to grow in line with project developments.
The AdderLink AV100 range of audiovisual extenders allow for the real time delivery of high quality multimedia content over long distances. Using the AdderLink AV avoids the prohibitive costs of fiber optic cabling, displays with built in CPUs or locating a CPU next to each screen.
Allowing for the creation of flexible distribution architectures, AdderLink AV 100 ensures direct delivery of crystal clear communication with consumers at the point of decision.