Rose store on KVMGalore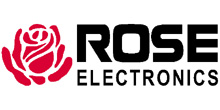 Rose offers the following product lines:
At Rose Electronics, our primary focus is to provide quality products to support keyboard, monitor and mouse (KVM) switching, KVM extension – including stereo audio and serial, video sharing/splitting, and digital signage applications. Rose KVM switches are easy to use, Multi-platform systems designed for use in the home or small office, enterprise, datacenter, or command center. Utilizing proven technologies, one can centrally manage and administer, computers, servers, headless devices, and network infrastructure components such as switches and routers.
In support of this environment we have developed several extenders which, in addition to keyboard, mouse, and video signals, will also support stereo audio, USB peripherals, serial devices such as touch screens, and computers with multiple video cards. The use of state-of-the-art technologies such as automatic equalization and automatic skew compensation make setup and configuration simple and easy, as well as deliver crisp, high resolution video.
Rose RackView line of KVM drawers is an excellent solution to provide clutter-free access to a computer in a reception area or a Doctor's office or to eliminate the need for a crash cart in order to perform routine maintenance on your servers. Enclosed in metal, the high-resolution monitors are protected from knocks and jolts that would normally spell doom for similar systems made from less durable material. The drawer rails are industrial strength units capable of withstanding the abuses associated with mobile and datacenter use; this translates into years of trouble-free use.
Standard warranty: One year