Minicom Tripp Lite store on KVMGalore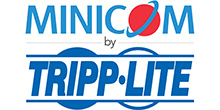 Minicom Tripp Lite offers the following product lines:
Minicom by Tripp Lite is an innovative leading manufacturer of KVM server and computer management solutions that enhance control of the enterprise and corporate IT environments.
Outstanding product reliability has been Minicom by Tripp Lite trademark for more than 90 years. Minicom by Tripp Lite's green design and manufacturing philosophy reflects its belief that environmental responsibility leads to better products and happier customers.
The company's products, which have earned multiple industry awards, serve the IT, enterprise, healthcare, audio/video, telecommunications, industrial, government and education sectors worldwide.
Headquartered in Chicago, Illinois, Minicom by Tripp Lite maintains a global presence with fully staffed offices worldwide.