kvm-tec store on KVMGalore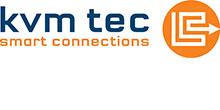 kvm-tec offers the following product lines:

In 1978 Dietmar Pfurtscheller founded kvm-tec, a company that since inception has been a market leader in the electronics sector. Drawing on a wealth of knowledge, a wide variety of products have been developed by the company. This includes: high-resolution ergonomic graphic terminals, monitors for the Lufthansa pilot training center, DTP monitors, Graphic terminals for process visualization in use at AVL and in engine development at BMW, True Color high-performance PECAD graphic cards for Windows, CAD and 3D with ergonomic zoom functions.
In today's competitive international market, exceptional performance is the key to kvm-tec's success. kvm-tec excels on all fronts. From price/performance, to product reliability, to delivery and support; at kvm-tec everything works perfectly.
kvm-tec aim is the 100% satisfied customer. Therefore they only focus on their core competency - product development and know how. Production is outsourced to competent partners with modern manufacturing facilities. This allows kvm-tec to offer you the best quality on the market at the best possible prices.
What began as one extender has blossomed into a wide product range. kvm-tec products are in use worldwide and they are chosen as a partner by companies with the highest quality standards in the range of industries, automation and medical engineering. kvm-tec products have a failure rate of less than one-tenth of a percent and kvm-tec patented technology allows high resolution video transmission in real time without quality loss at ranges of up to 500 feet with standard CAT-5 cables.
Standard warranty: Two years