Geist Monitor store on KVMGalore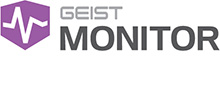 Geist Monitor offers the following product lines:
Geist Monitor manufactures web-enabled environmental monitoring systems allowing users to keep a remote eye on environmental conditions from a secure web interface and receive SNMP, E-mail, text message and/or voice call alert notifications when sensor measurements fall outside of specified alarm thresholds. The web interface provides live video feeds and an overview of environmental measurements including temperature, humidity, airflow, light, sound, power, water detection and more. The measurements are logged and graphed for viewing trends. External processes or applications can be automated on trigger of an alarm or remotely through the web interface with units supporting output relay control.
Geist Monitor is committed to helping IT and facility administrators protect critical infrastructure and prevent system downtime, hardware damage and data loss by manufacturing the highest quality and most reliable environmental monitors in the market. Geist Monitor' friendly, knowledgeable and professional engineers will help educate and problem-solve for our customers by providing superior customer service, innovation, quality and commitment.
Geist Monitor is constantly striving to improve customer experience around the globe while delivering the latest features to keep ahead of the competition. Every unit is examined for functionality and visual defects prior to packaging. Our superior level of quality and reliability comes with every unit we manufacture.
Firmware upgrades and technical support are made available to all users for life at no additional charge. Technical support is provided by the same engineers and programmers who design our products.
Geist Monitor is increasingly expanding focus beyond the computer room environments by fulfilling needs of monitoring refrigeration units/cold storages, research facilities, blood banks, pharmaceutical storages, power plants and other critical facilities.
Standard warranty: 5 years on Geist-manufactured products; One year on 3rd party accessories.