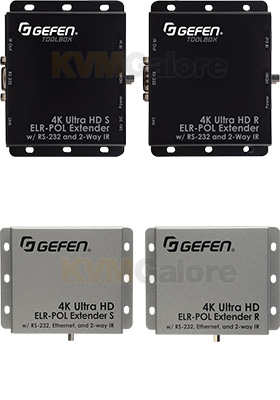 Extends HDMI, RS-232, and bi-directional infrared (IR) over CAT-5 up to 495 feet (150m)
with optional Ethernet, audio and PoH (powere over HDBaseT)
---

Gefen 4K HDMI extenders use the Gefen implementation of the HDBaseT™ technology to extend HDMI up to 495 feet (150 meters) using one CAT-5e cable. Resolutions up to 4K Ultra-HD (3840x2160 @ 60 Hz 4:2:0) with 7.1 channels of HBR (High Bit Rate) lossless digital audio are supported.
These products provide RS-232, 2-way IR and optional Ethernet extension between the Sender and the Receiver units, making 10/100BaseT wired Ethernet connection available at the remote location without the need to run a separate cable. They also allow the transfer of IR commands and RS-232 communications between two remote locations.
RS-232 and bi-directional IR can be used to control A/V sources placed near the Sender unit and to send automation commands to the display or another device placed near the Receiver unit. Gefen bi-directional POL (Power over Line) technology powers the Sender or the Receiver unit using the same cable that extends the HDMI signal. Only one of the two units needs a power supply. This feature simplifies installation.
4K Ultra-HD 600 MHz HDBaseT Extender w/ HDR, 2-way IR and POL: HDMI 2.0; HDR; 2-way infrared; one CAT-5 cable; PoL; 264 feet (4K)
4K Ultra-HD 600 MHz HDBaseT Extender w/ HDR, RS-232, 2-way IR, and POL: HDMI 2.0; HDR; RS-232: 2-way infrared; one CAT-5 cable; PoL; 264 feet (4K)
4K Ultra-HD ELR-POL Extender w/ RS-232, Ethernet, and 2-way IR: HDMI; RS-232; Ethernet; 2-way infrared; one CAT-5 cable; 330 feet (4K); 495 feet (1080p)
4K Ultra-HD HDBaseT 2.0 Extender w/ Ethernet, RS-232, IR, Audio & PoH: HDMI; Ethernet; RS-232; 2-way infrared; 2-way audio; 2-way power over HDBaseT (PoH); one CAT-5 cable; 330 feet (4K); 495 feet (1080p)
4K Ultra-HD HDBaseT 2.0 Extender w/ RS-232, 2-Way IR & PoH: HDMI; RS-232; 2-way infrared; power over HDBaseT (PoH); one CAT-5 cable; 330 feet (4K); 495 feet (1080p)
4K Ultra-HD HDBaseT Extender w/2-way IR and PoL: HDMI; RS-232; 2-way infrared; power over line (PoL); one CAT-5 cable; 130 feet (4K); 230 feet (1080p)
4K Ultra-HD HDBaseT Extender: HDMI; RS-232; 2-way infrared; power over line (POL); one CAT-5 cable; 330 feet (4K); 495 feet (1080p)
GefenToolBox Extender for HDMI with PoL: HDMI; 2-way infrared; power over line (POL); one CAT-5e/6 cable; 130 feet (4K); 230 feet (1080p)