Solutions by StarTech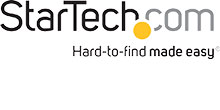 Check out related products from StarTech:
Since 1985 StarTech.com has provided a complete range of IT and A/V products for a diverse customer base that spans many channels, including government, education and industrial facilities to name just a few. StarTech.com is dedicated to providing comprehensive information in order to simplify your purchasing process and to ensure that the solutions you need are available when and where you need them.
While every StarTech.com product offers uncompromising quality and workmanship, they never lose sight of their customers' individual needs - their free, live pre and post sales and technical support are second to none.
Warranty: 2 years, with free lifetime technical support.