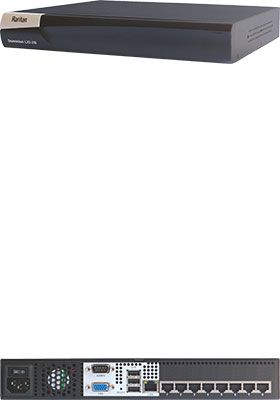 Buy this item and earn 1,019

Club

Points.
DLX2-108: 1 local user, 1 remote user, 8-port KVM-over-IP switch
for small to midsize business (SMB)
---
• Java-free, BIOS-level IP access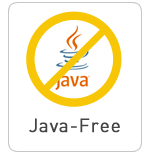 • HD remote access
• Multi-platform, multi-vendor access
• Optional serial access
• Virtual media
• Enhanced security with secure TLS web browser access
• Apple iPhone/iPad
• Absolute mouse synchronization
• At-the-rack access
Designed for small to midsize businesses (SMBs), Raritan's economical Dominion® LX II enables IT, data center, lab, and network administrators to remotely manage computer and serial devices to maximize uptime, avoid travel and quickly resolve issues.
This second-generation KVM-over-IP switch gives one remote user and one local user Java-free, BIOS-level access and control of 16 servers (expandable to 256 servers with tiering) and virtual media.
Dominion® LX II supports a wide variety of computer and serial devices with VGA, DVI, HDMI, USB-C and DisplayPort video. Productive, KVM-over-IP connections up to 15 frames per second with video resolutions up to 1080p and 1920x1200 are supported for digital and analog video.
Optional management of 2 to 8 serial devices is also available. Standard productivity features such as virtual media, absolute mouse synchronization, directory server authentication, and PC Share are all included.
What's New? Next Generation Advantages


Raritan's Dominion LX II replaces the original Dominion LX, introduced in 2011, with an all-new hardware and software platform. Dominion LX II has significant advancements over the previous generation including:
• Java-free KVM-over-IP and optional Serial access and control
• Manages up to eight serial devices via DSAM accessories
• Enhanced security with secure TLS web browser access
• All new, modern hardware, video and software platform
Java-Free KVM/Serial Access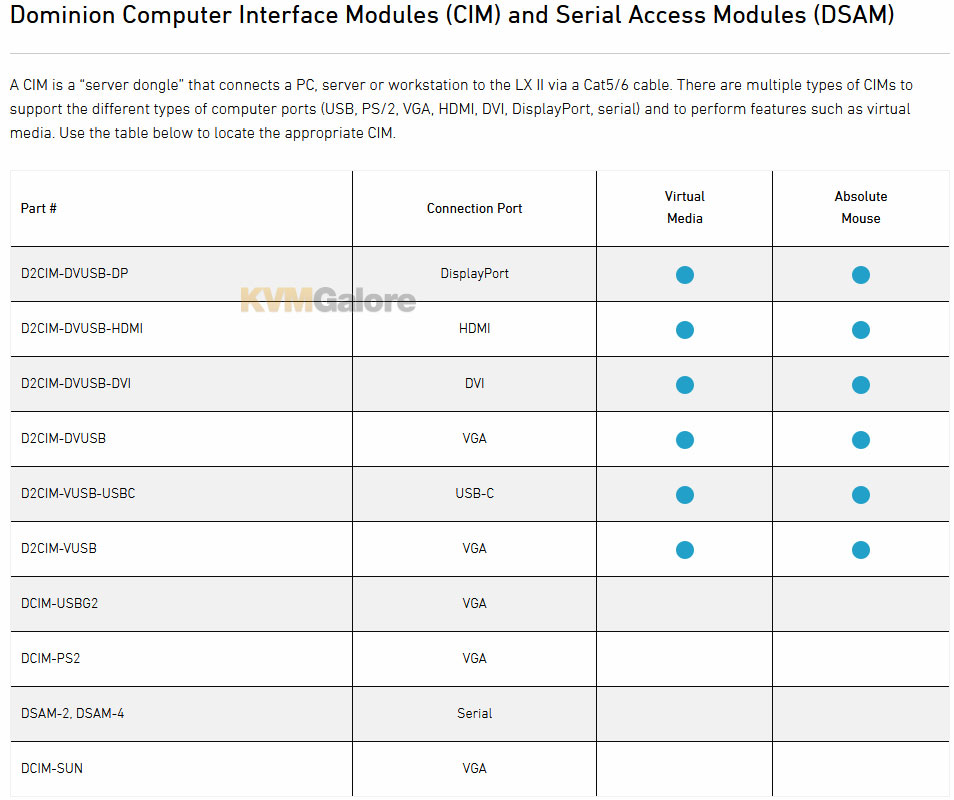 • Productive, Java-free HTML5 user interface
• User configurable for LAN, WAN and Internet
• Three KVM client software alternatives: Java-free, HTML5-based HKC; Microsoft Windows .NET-based AKC; Java-based VKCS
• External telephone and cellular modem access
• Apple iPhone/iPad Access and Control
Optional Serial Access with DSAM
• Manage 2, 4, 6 or 8 serial devices such as LAN switch, routers, Linux servers
• Two and four port serial modules
• Full featured serial over IP access
• Auto DCE/DTE — no rollover cables!
• Zero-U, connects to Dominion LX II USB port
• Powered from Dominion LX II switch
• Does not use any Dominion LX II KVM ports
Customers
• IT Administrators
• Data Center and Lab Managers
• Network Administrators
Applications
• Small and medium business (SMB)
• Labs, small racks and server rooms
• Remote offices and facilities, retail
• Applications with KVM and serial
• Replace old, Java-based KVM switch
Features and Benefits
• Economical, reliable and secure remote access and management
• Anytime/anywhere, Java-free, browser-based remote access
• Manage and maintain equipment without travel
• Remote software installation, booting and diagnostics
• Multi-vendor, multi-platform, multi-OS support for diverse computer and network devices - Administer a wide range of servers, PCs and laptops with VGA, DVI, HDMI, USB-C, DisplayPort, USB, and PS/2 interfaces
• Java-free, BIOS-level, IP remote access - Productive, Java-free, BIOS-level, IP access and control of PC's, servers and serial devices over LAN, WAN, or Internet to troubleshoot, reconfigure, and reboot servers remotely
• One remote user; One local user; 16 KVM ports; Up to 8 (optional) serial ports
• VGA, DVI, HDMI, USB-C and DisplayPort computer interfaces supported
• Second generation platform with 1080p and 1920x1200 video at 15 frames/second - Access applications on remote servers up to 1920x1080 and 1920x1200 HD video resolution, with a standard 15 frames-per-second KVM-over-IP performance
• Virtual media to remotely install software, run diagnostics and boot
• Absolute Mouse Synchronization™ to automate server mouse configuration -provides perfect synchronization without changing server mouse settings - the ultimate in plug and play!
• Manage up to 8 serial devices (via optional DSAM) - Manage 2, 4, 6, or 8 serial devices with Dominion Serial Access Modules (DSAM). Gain full-featured, Java-free serial access with auto DTE/DCE — no rollover cables!
• VGA/USB local port
• Strong security - Utilizes strong TLS, password settings, password retry lockout, and the Advanced Encryption Standard (AES). It also integrates with Active Directory®, LDAP or RADIUS
• Apple iPhone/iPad - Get convenient BIOS-level access and control of PC's and servers via Apple iPhones and iPads using the Java-free, HTML5-based HTML KVM client
• At-the-rack access - The LX II local port provides fast, at-the-rack access via VGA & USB. The productive, browser-based user interface is common with the remote UI, with all administrative features


• RADIUS, LDAP and Active Directory support
• Tiering support up to 256 servers
• PC Share access by up to 8 users
• Secure TLS and AES encryption
Package Includes
1x Dominion LX II switch
1x Rack-mount kit
1x AC power cord
1x LX2 quick setup guide
1x Application note
1x Warranty card
Dongles (CIMs) are not included - see listing below for compatible dongles