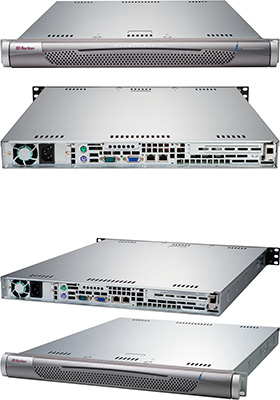 Buy this item and earn 3,709

Club

Points.
CCSG128-VA: Dominion management appliance
CommandCenter® Secure Gateway (CC-SG) management appliances provide unified, secure access to KVM, serial and remote power management devices via a Web browser.
Compatible with Raritan's Dominion® Series, Paragon® II, IP-Reach® and Dominion PX intelligent PDUs, CC-SG provides centralized policy and security management of users and devices connected to Raritan products, other embedded solutions like iLO/iLO2, IPMI, and in-band software solutions and virtualization environments.
CC-SG delivers secure, powerful and effective management through AES encryption, flexible authentication options (LDAP, Active Directory®, RADIUS and TACACS+), comprehensive reporting capabilities, customizable views and SNMP Traps.
CC-SG aggregates console access and remote power control capabilities to devices in multiple local or remote data centers, providing a simple, centralized gateway to diagnose and resolve problems quickly.
Features and Benefits
• Support for Access to Blade Servers connected to KX II Devices - CC-SG supports the accessing of blade servers connected to Raritan Dominion KX II KVM-over-IP switches, version 2.1 and higher. Supported blade models include most Dell, HP and IBM blade servers.
• Neighborhoods - A collection of up to 10 CC-SG units, deployed and working together to serve the IT infrastructure access and control needs of the enterprise.
• VMware Virtualization Support Enhancements
• Cluster Management Enhancements
• Disc Drive Upgradability (RAID)
• Device Configuration File Backup and Restore
• Device Configuration Copy Support
• Enhanced AES Support
• Browser Support - CC-SG may be accessed with Firefox 3.0.x. Please see the CC-SG compatibility matrix for a full list of supported browsers.
• Support of 64 bit Client OS - CC-SG supports 64 bit client operating systems, including Windows Vista 64 bit and Windows XP Professional x64 Edition.
Note: CommandCenter Secure Gateway Virtual Appliance runs on VMware, including ESXi and VMware Server.