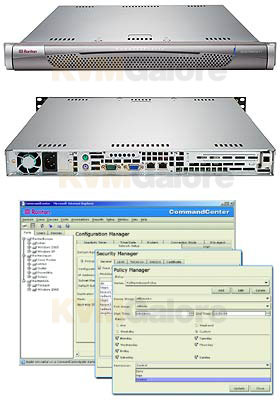 Complete, hardware-based, centralized access, control and management of IP-enabled Dominion appliances
easily accessible from anywhere via a simple but secure unified browser interface
---
When you're responsible for Enterprise operations with multiple data centers, managing local and remote access to servers and other IT devices through KVM switches and serial console control, you need a centralized way to manage it all.
Raritan's CommandCenter Secure Gateway provides IT professionals with a complete, hardware-based centralized access, control and management solution, easily accessible from anywhere, via a simple but secure unified browser interface.
CommandCenter Secure Gateway delivers maximum access and control performance, providing users with a streamlined, unified interface that fronts up to 1,000 managed console ports and up to 10,000 keyboard, video and mouse (KVM) ports.
Serial access is provided by deploying Raritan's line of Dominion SX II serial console management appliances. KVM access is offered through Raritan's IP-enabled family of Dominion KX III, KVM over IP switches.
CommandCenter Secure Gateway is the ideal solution for corporate IT departments or service providers that have a large number of heterogeneous IT devices in their data center(s).