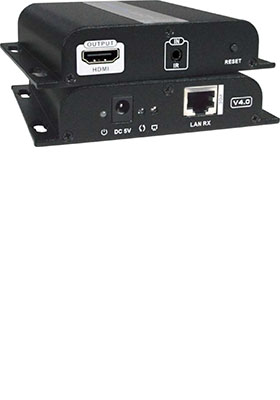 Buy this item and earn 170

Club

Points.
ST-IPHD-R-POELC-V4: Extend HDMI over Gigabit Ethernet
with Power over Ethernet (PoE)
---
Note: Local units are purchased separately
• Extend HD 1080p video up to 394 feet via one CATx cable
• Use with cascaded network switches to extend to 1,575 feet
• Supports point-to-point, point-to-many, and many-to-many connections
• Power over Ethernet (POE) – no power supply required
XTENDEX® low-cost HDMI over gigabit IP extender with IR and PoE multicasts digital video and audio signals to one or more receivers up to 394 feet away over a 1000 Base-T gigabit network connected with CAT-6/6a/7 cable.
The low-cost HDMI over gigabit IP receiver with IR and PoE consists of a remote unit that connects to an HDMI display. The local and remote units can be connected together for a point-to-point connection via CATx or a point-to-many connection via a network switch. Support for multiple transmitters requires a managed network switch.
Features and Benefits
• Supports HDTV resolutions up to 1080p
• Extend up to 394 feet (120 meters) with CAT-6/6a/7 cable
• Extend up to 328 feet (100 meters) with CAT5e cable
• Cascade network switches to extend the length long distances
• Up to three switches can be cascaded
• The max cable length between the first switch/transmitter and the last switch/receiver is 1,575 feet (480 meters) for CAT-6/6a/7 or 1,312 feet (400 meters) for CAT5e cables
• The max cable lengths between switches is switch dependent, but 394 feet (120 meters) is typical with CAT-6/6a/7 cable
• Power over Ethernet (PoE) – power supply not required at the local or remote unit
• Ideal solution for digital signage applications
• Broadcast real-time HDMI video and audio signals to multiple display locations with a managed or unmanaged (also known as non-managed) network switch
• Transmits an HDMI signal over one CATx cable
• Full infrared (IR) remote control of HDMI source from remote HDTV using existing source remote control
• Plug-and-Play installation allows receivers to find the transmitters automatically on the same subnet (network configuration may be required for managed network switch)
• Easily expandable - add remote units as you add monitors
• Inexpensive CATx cable replaces bulky video cables
• Supports 1000 Base-T Ethernet connection
• Built in default EDID table
• HDMI 1.4 and HDCP 1.4 compliant
• Support for multiple transmitters requires a managed network switch with VLAN support (standard LAN switches can only support one transmitter)
• The managed switch must support port-based IEEE 802.1Q VLAN
• Each VLAN acts as a separate HDMI Over IP Channel on the network
• Each VLAN channel supports one transmitter
• Number of local and remote units that can be used is dependent on the backplane bandwidth of the switch
• For a point-to-many connection, a standalone network with an unmanaged network switch, hub, or router can be used instead of a managed network switch
• Up to 253 receivers supported
• It is not recommended to use any other network devices on this standalone network as it may cause a degradation in performance
• Local and remote units must be in the same LAN. The units do not support WAN connections
Package Content
1x ST-IPHD-POELC-V4 Remote unit
1x URL slip with path to manual
1x IR-Receiver with 40" (1015 mm) cable