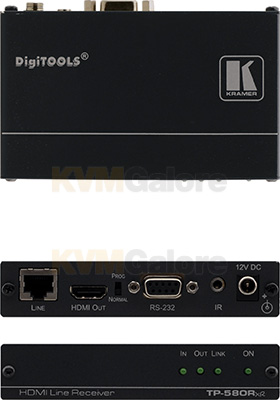 HDMI, bidirectional RS-232 and IR over HDBaseT twisted-pair extenders
supporting distances of up to 590 feet
---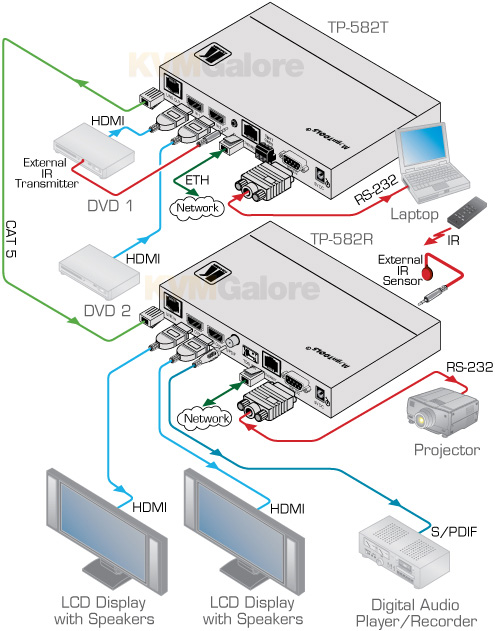 Kramer HDBaseT Twisted-Pair Extenders extend HDMI, bidirectional RS-232 and IR signals over twisted pair using HDBaseT technology in projection systems for conference rooms, boardrooms, auditoriums, hotels and churches, production studios.
Transmitters input HDMI, RS-232, and IR signals and convert them into an HDBaseT twisted pair signal that they transmit to receiver units.
Commands and data can flow in both directions via the RS-232 interface, allowing status requests and remote control of the destination unit.
'Extended Range' models support a distance up to 590 feet with a resolution of up to 1080p @60Hz at 24 bits per pixel using HDBaseT™ technology.
'Standard' models support a distance up to 230 feet using HDBaseT™ technology.
All models are HDCP compliant, support HDMI deep color, x.v.Color™, lip sync, uncompressed audio channels, Dolby TrueHD, DTS-HD, CEC, 3D pass-through, EDID PassThru.
PT-580T: 4K@60 transmitter; 130 feet
TP-580R: 4K@60 receiver; 230 feet
TP-580RXR: 4K@60 receiver; 330 feet
TP-580T: 4K@60 transmitter; 230 feet
TP-580TXR: 4K@60 transmitter; 330 feet
TP-581T: 1080p transmitter w/ Ethernet; 430 feet
TP-582R: 1080p receiver w/ Ethernet, 2x video outputs, audio de-embedding; 430 feet
TP-582T: 1080p transmitter w/ Ethernet, 2x video input switch; 430 feet
TP-780R: 4K@60 receiver w/ PoE, RS-232 and IR
TP-780RXR: 4K@60 receiver w/ PoE, Ethernet; 330 feet
TP-780T: 4K@60 transmitter w/ PoE; 130 feet
TP-780TXR: 4K@60 transmitter w/ PoE, Ethernet; 330 feet
VP-427A: 1080p receiver w/ analog audio de-embedding, video scaling; 230 feet