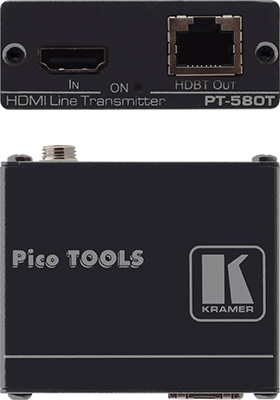 Buy this item and earn 180

Club

Points.
4K @ 60Hz (4:2:0) HDMI over HDBaseT twisted pair transmitter
for up to 130 feet extension
---
Note: Receiver unit is purchased separately
Quick Facts
• Max. Data Rate - 10.2Gbps
• 2K and 4K Support
• 3D Pass-Through
• EDID Pass-Through
• Size - Pico TOOLS™ - Mount 4 units side-by-side in a 1U rack space with the optional RK-4PT rack adapter
• Audio - E
PT-580T is a compact 4K60Hz (4:2:0) HDMI transmitter over long-reach HDBaseT.
The unit inputs a 4K60Hz (4:2:0) HDMI signal that it converts to a twisted pair signal. An HDBaseT receiver (for example the TP-580R or WP-580R, purchased separately) converts the twisted pair signal back into a 4K60Hz (4:2:0) HDMI signal and together they form a transmitter receiver pair.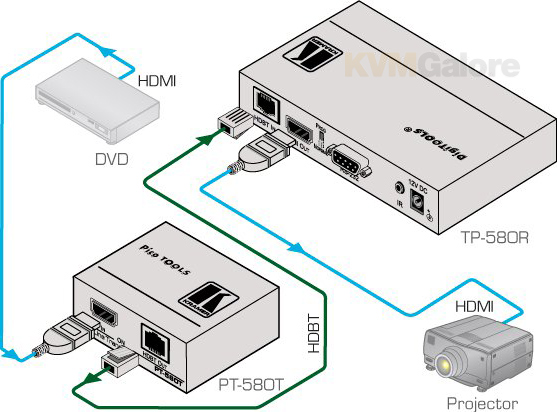 Applications
• Projection systems in conference rooms, boardrooms, auditoriums, hotels and churches, production studios
• Rental and staging
Features and Benefits
• Max. Data Rate - 10.2Gbps (3.4Gbps per graphic channel)
• Resolution Support - Up to 4K @ 60Hz (4:2:0), 2Kx4K
• HDTV Compatible
• HDCP Compliant
• HDBaseT Certified
• HDMI Support - Deep color, x.v.Color™, lip sync, HDMI uncompressed audio channels, Dolby TrueHD, DTS-HD
• 3D Pass-Through
• EDID Pass-Through - Passes EDID signals from the source to the display
• System Range - 70m (230 feet) at 2K, 40m (130 feet) at 4K (UHD) resolutions
• Cable - Shielded twisted pair (STP) cable recommended. For optimum range and performance use, use Kramer's BC-UNIKAT cable. Note that the transmission range depends on the signal resolution, graphics card and display used. The distance using non-Kramer CAT 5, CAT 6, and CAT 7 cables may not reach these ranges
• Indicator - Power LED