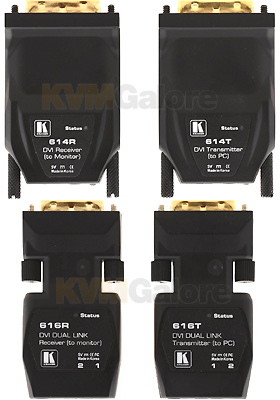 Detachable DVI Extenders over Fiber
Small, lightweight, detachable DVI fiber-optic transmitter and receiver pairs extend uncompressed resolutions up to 3840x2400 up to 1640 feet
Read more below...

Kramer 614R/T and 616R/T: Single- and dual-link detachable DVI extenders over fiber-optic
Kramer's Detachable DVI Fiber-Optical Extenders are a small and lightweight, detachable fiber optic transmitter and receiver pair.
They transmit uncompressed resolutions of up to WQXGA (2560x1600 @60Hz) or WQUXGA (3840x2400 @33Hz vertical refresh rate) over single- or dual-link DVI to a range of up to 500 meters (1640 feet) using multimode fiber optic cable with one or two LC connectors.
The Transmitter converts DVI signals to optical signals that it transmits to the Receiver. The Receiver decodes the optical signals back to a DVI signal.