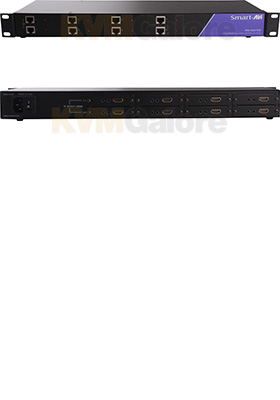 Buy this item and earn 1,424

Club

Points.
RK8-HDX-POE-S: 8-port rack-mount HDMI, IR and power extender over CAT-5e/6 (transmitter)
consolidate up to eight HDMI extenders in one powered rack unit to transmit HD signals using CAT-5e/6
---
Note: Receiver units are purchased separately
RK8-HDX-PoE is the perfect solution for extending HDMI signals to a remote location up to 250 feet away. It is the ideal way to consolidate up to eight workstation computers into one location. It is fully compatible with Mac, PC and Linux HDMI standards.
Up to eight displays can be extended easily from a rack without the mess or expense of multiple extenders. Rather than buy multiple extenders for rack components, and having to find power strips or numerous power outlets for the adapters, Smart-AVI rack series of extenders allows for up to eight inputs and eight outputs with only one power supply.
Rack to Endpoint
If your company uses a rack of source devices, whether it be computer servers, DVD players or other hardware, RK8-HDX-PoE allows you to run all of those components into one extension box that supports up to eight inputs/outputs on one power supply. In this example, source signals are being routed from a company rack through RK8-HDX-PoE to multiple displays.
Receivers
RK8-HDX-PoE utilizes Smart-AVI's HDX-PoE-Rx receiver unit (purchased separately) at the end point to convert the CAT-5e/6 feed back into an HDMI signal. The receiver has the option to be powered from the transmitter. HDX-PoE-Rx is an innovative solution to extending any HDMI signal - be it a gaming console, Blu-Ray player, computer, etc. - over inexpensive CAT-5e/6 STP cabling up to 250 feet away to one remote display and one local screen for real-time monitoring of content. This is the perfect solution for broadcasting high-definition media easily and inexpensively from a source to display screen for customers to view while keeping the CPU in a remote, secure location such as a computer room or back office of a business.
Utilizing the HDX-PoE-Rx, users can monitor what's being shown to customers in real-time via a local display while users retain full control over the CPU or HDMI source, accessible only by key personnel. HDX-PoE-Rx is a compact unit that is easily integrated into a digital display network in a retail store, bar/lounge or other venue. The receiver unit is small and light, which makes inclusion into infrastructure very simple.
Application
• Medical: In the medical field where sensitive electronic devices are used, isolating workstation computers can be a matter of safety. RK8-HDX-PoE allows the workstation computers to be housed in a central location, away from sensitive devices.
• Industrial: In industrial work areas that may be too harsh for a workstation computer, RK8-HDX-PoE can consolidate the computers into a safe location.
• Digital Signage: When it comes to digital signage, RK8-HDX-PoE is an excellent deployment option. With RK8-HDX-PoE, up to eight digital signage devices can be centralized and secured from public access.
• Information kiosks/displays: As with most information booths and kiosks, there is a risk of damage or theft. RK8-HDX-PoE is the best way to secure computer hardware, by consolidating it to a secure location away from public access.
Features and Benefits
• Extends HDMI, IR, and Power Output over CAT-5e/6
• Extends IR Control Signals for Remote Control
• Uses HDBaseT Technology
• Full HD support: 1080p @ 60Hz @ 48 bit/pixels; 1080p @ 120Hz @ 24 bit/pixels
• 3D 1080p @ 60Hz
• 4Kx2K @ 30Hz @ 24bit
• Data Signals up to 3.4Gbps
• HDMI 1.4 and HDCP Compliance
• Power receiver from transmitter
• Transmits Dolby TrueHD, DTS-HD MA Audio Signals
• Transmits 1080p Resolution Video up to 250 feet
• Rack mountable
• Up to 8 units on single rack