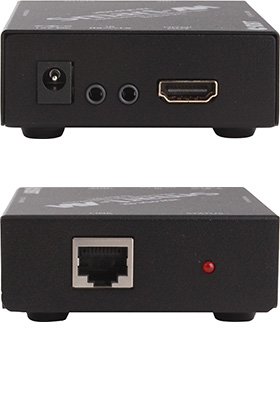 Buy this item and earn 169

Club

Points.
HDX-POE-RXS: HDMI, infrared (IR) and power extender over a single CAT-5e/6 cable (receiver unit)
watch and control HDTV 1080p video up to 250 feet from the source via CAT--5e/6 using HDBaseT and PoE technology
---
Note: Transmitter units are purchased separately
Are you extending your HD signal reach and finding that the best potential new loCAT-ions don't have the proper power available? You may not have to scale down your plans if you consider using an HDX-PoE system from SmartAVI.
HDX-PoE injects power into HDBaseT CAT-5/CAT-6 cable that transports both HDMI and IR and picks it off at the load.

Features and Benefits
• Supports PoE: Can be powered by TX or RX
• Extends HDMI, IR and power output over one CAT-5e/6 cable
• Extends IR control signals for remote control
• Uses HDBaseT technology
• Full HD support: 1080p @ 60Hz @ 48 bit/pixels; 1080p @ 120Hz @ 24 bit/pixels; 3D 1080p @ 60Hz and 4Kx2K @ 30Hz @ 24bit
• Data signals up to 3.4Gbps
• HDMI 1.4 and HDCP compliance
• Uses bi-directional IR communication
• Transmits high-quality Dolby TrueHD, DTS-HD MA audio signals
• Transmits 1080p resolution video up to 250 feet

Package Includes
1x HDX-POE-RX receiver
1x PS12V2.5A power supply
1x Wall mount