Solutions by Gefen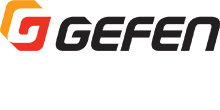 Check out related products from Gefen:
Gefen delivers innovative, progressive computer and electronics add-on solutions that harness integration, extension, distribution and conversion technologies. Gefen's reliable, plug-and-play products supplement cross-platform computer systems, professional audio/video environments and HDTV systems of all sizes with hard-working solutions that are easy to implement and simple to operate.
Consistently the first-to-market with its solutions, Gefen was at the forefront of the digital video and HDTV (high definition television) evolution, providing HDTV problem-solvers that split, distribute, extend and convert HDTV for maximizing any digital video environment, regardless of scope and stature.
Solutions support both modern and traditional audio/video interfaces, including DVI, Dual-Link DVI, HD SDI, HDMI, Component, USB and FireWire. Computer interfaces such as RS-232, PS-2, VGA and ADC plus digital and analog audio are supported as well. A high quality selection of CAT-5, DVI, HDMI and fiber optics cables caps off the product line.
Standard warranty: Two years.