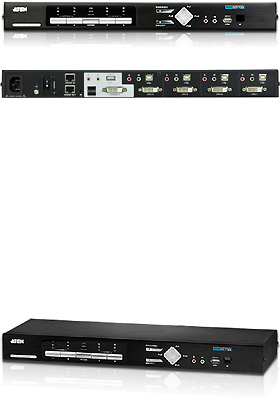 Buy this item and earn 1,388

Club

Points.
4-port USB DVI-D multi-view KVMP switch
Highlights
• Flexible Display Modes: CM1164A supports Quad View, Picture in Picture (PiP), Picture by Picture (PbP), Picture on Picture (PoP), and Full Screen mode. User can change size and location of each video source and easily click on demand to control PC
• Boundless Switching: By moving the mouse cursor across different windows, users are allowed to switch KVM focus among multiple sources on multiple windows. The mouse cursor can be moved to another window in any direction and instantly access the target computer
• Expandability: Supports Daisy Chain Control (DCC) for user to control up to 3 additional CM1164A units from a single console. Also, CM1164A can be cascaded up to 2 levels to control up to 16 computers
• Video DynaSync™: ATEN's exclusive technology automatically detects the horizontal and vertical offset values of each computer's display settings and synchronizes them with the monitor users are working on, ensuring that the display resolution will always be correct when switching among different video sources
CM1164A charts a revolutionary new direction in KVM switch functionality by combining a 4-port DVI-D with a 2-port USB hub, and providing different display modes, including Quad View mode, Picture in Picture mode (Dual, Triple, or Quad), Picture by Picture mode (Dual, Triple, or Quad), Picture on Picture mode, and Full Screen mode.
Control and switch between computers/video sources is versatile using the front-panel pushbuttons, IR remote control, On-Screen Display (OSD), RS-232 commands, or through hotkey combinations entered from the console keyboard.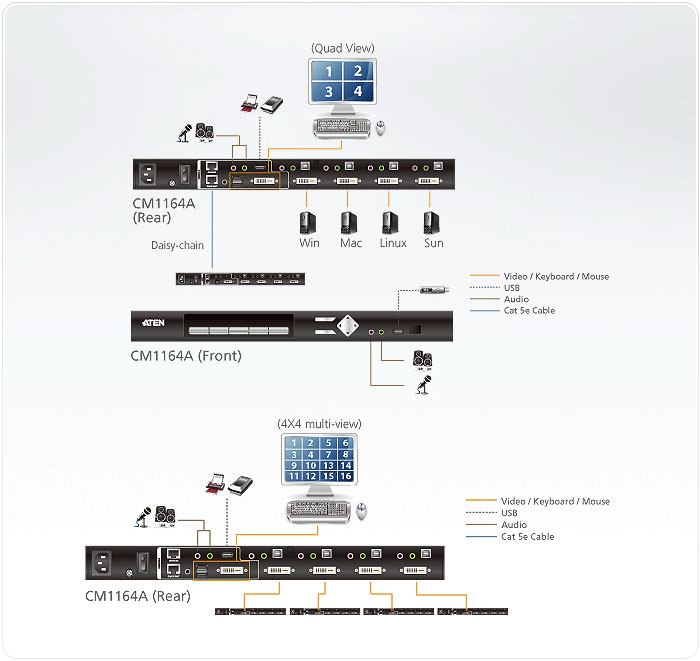 CM1164A allows users to access 4 computers/devices from a single console, consisting of a USB keyboard, USB mouse, and DVI-D monitor.
As a USB hub, CM1164A permits each computer to access connected peripherals on a one-computer-at-a-time basis. CM1164A's independent switching feature allows the KVM focus to be on one computer while the USB peripheral focus is on another. There is no need to purchase a separate USB hub, as well as separate stand-alone peripheral sharers.
CM1164A further improves on previous designs with DVI-D connectors, and the transfer of keyboard and mouse data to the computers via a fast, reliable USB connection. As with the USB peripherals, the audio focus can be independent of the KVM focus.
A Daisy Chain Control (DCC) port allows the user to connect and control up to four CM1164A switches via a single set of keyboard and mouse. This enables the use of only one keyboard/mouse over several computers by switching the console keyboard and mouse focus to the monitor of each secondary station. This is convenient for growing networks that need to monitor and manage more computers - daisy chain up to four units and switch between up to 16 computers/video sources. You can also choose to have all sources displayed on one monitor by cascading, where CM1164A units are connected to one another via its KVM Ports. In a cascade setup, you can control and monitor up to 16 computers (4 additional CM1164A) using a single console.
Setup is fast and easy; simply plug cables into their appropriate ports. There is no software to configure, no installation routines, and no incompatibility problems. Since CM1164A intercepts keyboard input directly, it works on Microsoft Windows, Linux, Sun and Mac platforms.
CM1164A improves operational efficiency for a wide range of practical applications, including control rooms, monitoring systems, and traffic control centers, as well as process control centers, server rooms, medical industries, broadcasting, production and automation, aircraft and vehicles. In combination with projectors, it is also used in presentations and conference rooms.
Allowing you to switch seamlessly between four PCs, and share USB peripherals and stereo audio, CM1164A is ideal for multimedia applications, and offers the ultimate in space-saving, streamlined KVM technology.
Features and Benefits
• Multi-view console controls up to four video sources on one screen with display modes including Quad View, Picture in Picture (PiP), Picture by Picture (PbP), and Picture on Picture (PoP)
• System configuration via front panel, OSD, IR Remote - display mode and port selection
• Easily resize and / or reposition any PiP or PbP to suit users' viewing needs
• DCC (Daisy Chain Control) — Controls up to 3 additional CM1164A units from a single console
• Cascade up to 2 levels — Controls up to 16 computers (with up to 4 x 4 Multi-view mode)
• Boundless Switching - Simply moves the mouse cursor across windows to switch to other video sources
• Video DynaSync™ - exclusive ATEN technology eliminates boot-up display problems and optimizes the resolution when switching among different sources
• HDCP 1.4 compliant
• Supports RS-232 commands
• Drop down menu - edit display windows and other functions with the mouse and on-screen control panel
• Console mouse port emulation / bypass feature that supports most mouse drivers and multifunction mice
• Console keyboard emulation / bypass feature that support most multimedia keyboards
• Independent switching for USB peripheral port, audio function and KVM switch focus
• Auto Scan feature
• Power on Detection
• Multilingual keyboard mapping - supports English, French, Japanese, and German keyboards
• Full bass response provides a rich experience for 2.1 channel audio
• Supports keyboard combinations via emulation (for Sun / Mac)
Package Contents
1x CM1164A 4-Port USB DVI Multi-View KVMPTM Switch
4x KVM Cables (DVI-D, USB, Audio)
1x Power Cord
1x IR Remote Control
1x Rack Mount Kit
1x User Instructions