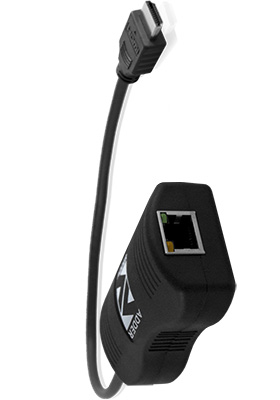 Buy this item and earn 219

Club

Points.
ALDV100R: Line powered HDMI digital audio/video receiver
over a single CATx cable, 164 feet
---
Note: Transmitter units are purchased separately
AdderLink DV100 Receiver [ALDV100R] is an easy to install, highly compact video extension receiver that receives an HD video stream with audio over a single CATx cable. This allows you to locate your media playback hardware in a secure and temperature controlled environment. Thus, your valuable systems are kept safely away from the display point environment while maintaining precisely the same user experience.
AdderLink DV100 allows you to extend HDMI digital video with audio over a maximum of 164 feet of twisted pair cable with the minimum of infrastructure and fuss. It is simply powered via USB from the local end, so that no additional power supply is required at the remote, simultaneously saving time and space as well as making installation very straightforward.
Pixel perfect digital video
AdderLink DV100 uses an uncompressed communication system whereby the pixels of every frame are sent without loss. Resolutions up to 1920x1200 @ 60Hz (WUXGA) are supported. Additionally, the High-bandwidth Digital Content Protection (HDCP) of the HDMI standard is supported.
Up to 164 feet over a single CATx cable
Video, audio and power pass along a single cable, providing a maximum of 164 feet extension. The actual achievable extension distance is dependent upon the CATx cable type used and the number of connection breaks for patch panels and wall plates (see specifications tab).
Highly energy efficient - No external power supplies are required
AdderLink DV100 is designed to be highly power efficient, using less than an eighth of the power required by some competing systems. By harvesting power from a standard USB socket, no external PSUs are needed and hence the support infrastructure required is kept to an absolute minimum.
Digital audio
Supports eight channels of HDMI audio.
Mix-n-match
The whole AdderLink DV family of extenders share a common advantage of cross connection. The HDMI transmitters (ALDV100T) of the family can seamlessly be connected to the DVI-D receivers (ALDV120R) and vice versa.
EDID management
The system has intelligent EDID management to allow the true characteristics of the monitor to be passed back to the computer.
Plug and play
AdderLink DV100 extender is delivered in a zero config state so you can connect its two units and start working with it immediately. There's no need for drivers or software to be installed.
Perfect video wall companion
With locking connectors and no power supplies required at the receiver, AdderLink DV100 makes a perfect companion for video walls where the controller must be located far from the screens.
Built to last
Adder Technology have a well-earned reputation for creating products that perform well and stay the course. AdderLink DV100 is no exception and features tough, yet lightweight ABS enclosures to ensure they can easily withstand everyday treatment. The internal components and external connectors too are selected for their reliability in addition to their performance characteristics.