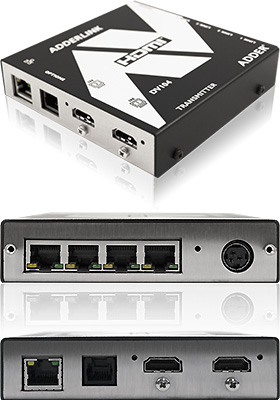 Buy this item and earn 612

Club

Points.
AdderLink DV104: Digital video/audio splitter/switch and extender
to drive up to four (4) remote displays
---
Note: Receiver units are purchased separately
AdderLink DV104 is a high performance digital video extender, splitter and switch that enables you to locate your critical player hardware in a secure and temperature controlled environment away from the display point environment while maintaining the same user experience.
Highlights
• Proof of Display (P.O.D.)
• 164 Feet extension distance
• Plug and Play
• Two video input, four video output
• 2x4 HD digital matrix
• Line powered receivers
AdderLink DV104 Transmitter allows you to split and extend HDMI digital video with audio to four (4) displays* from a single source (with failover) or from two sources over a maximum of 164 feet of twisted pair cable with the minimum of infrastructure and fuss. In a dual-source configuration, AdderLink DV104 can be configured as a 2x4 matrix, routing anyone of the two sources to anyone of the 4 displays.
AdderLink DV104 Transmitter provides power to the receivers over the CATx cables so that no additional power supply is required at the remote diaplay, simultaneously saving time and space as well as making installation very straightforward.
AdderLink DV104 Transmitter [ALDV104T-IEC] is ideally suited to the digital signage (DOOH - Digital Out-Of-Home) and audio visual (AV) industries.
Proof of Display via IP Network
AdderLink DV104 Transmitter determines if the entire system is operating correctly and video is visible on the monitors. It can detect if video is present from the player and whether the cables to the monitors are attached and the monitor is turned on. This information is available by an IP socket thus allowing remote diagnostics and integration into content management systems.
Source Failover
AdderLink DV104 Transmitter can be set to detect that a video stream is present at the input. The unit can be set to automatically switch over to the second video input if the primary fails.
Security
Security on the web interface is by HTTP digest authentication (RFC 2617) with username and password as requested information.
API for 3rd Party Integration
The API documentation to control and receive data from the unit is provided with the system.
Digital audio
Supports 8 channels of HDMI audio.
Perfect HD Digital Video
AdderLink DV104 Transmitter uses an uncompressed video system where every frame is sent without loss with resolutions up to 1920x1200 @ 60Hz (WUXGA) including 1080p, 720p and 480p resolutions.
164 Feet over a Single CATx Cable
Video, audio and power all pass along a single CATx cable, providing up to 164 feet of extension. Distance can be dependent upon CATx cable types and the number of connection breaks for patch panels and wall plates. See specs for details.
Dual Head Extension
With two inputs, the system is suited to extending and splitting dual head systems.
Highly Energy Efficient - No External Power Supplies are Required
The receivers are designed to be highly power efficient, using less than an eighth of the power required by competing systems. Power is supplied along the CATx cable meaning the support infrastructure required is minimal.
EDID Management
The system has intelligent EDID management allowing the true characteristics of the monitor to be passed back to the computer.
Plug and Play
AdderLink DV104 is delivered in a zero config state so you can plug and play. There is no need for additinal drivers or software.
Mix-n-match
The whole AdderLink DV family of extenders share a common advantage of cross connection. The HDMI transmitters (ALDV100T) of the family can seamlessly be connected to the DVI-D receivers (ALDV120R) and vice versa.
* Each display requires a Receiver unit, purchased separately.