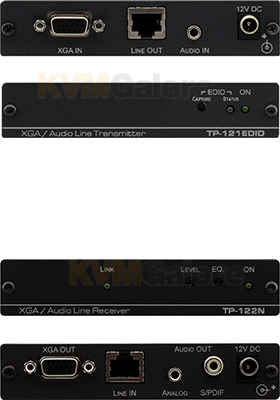 VGA+Audio Extenders
HDTV-compatible VGA video and stereo or S/PDIF audio over CATx twisted pair extenders up to 750 feet, with optional EDID and EMP protection
Read more below...

$336.00
MSRP: $420.00 -
You save $84.00

$308.00
MSRP: $385.00 -
You save $77.00
WUXGA Computer Graphics Video (HDTV Compatible) and Stereo Audio over CATx Twisted Pair Extenders up to 750 Feet, with Optional EDID and EMP Protection.

Kramer VGA+Audio Extenders are high-performance twisted pair transmitters and receivers for computer graphics video (VGA) and unbalanced stereo audio signals.

The transmitter converts the input signals to a twisted pair signal and transmits them over CAT-5 cable to a compatible receiver.

The receiver receives a twisted pair signal from the transmitter, and converts it back into computer graphics video, unbalanced stereo and S/PDIF audio outputs.

The Power Connect™ System allows a single power supply (on the transmitter or the receiver end) to power both units when the devices are within 150 feet.

The optional EDID Capture feature copies and stores the EDID from a display device.

The optional EMP Protection feature offers protection from voltage surges induced by the electromagnetic field of nearby lightning.