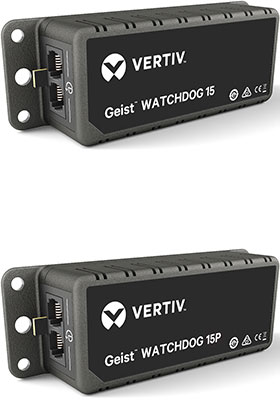 Small-size Web-enabled environmental monitor with optional power over Ethernet (PoE)
for placing in hot-spots, with fewer cables, simplified installation
---
Watchdog 15 is a self-contained environmental monitoring device with on-board temperature and humidity/dew-point sensors. It has an input capacity of four external sensors.
Designed specifically for small-scale applications, Watchdog 15 provides web-enabled temperature and humidity monitoring in a compact, low-cost unit with a simple, easy-to-use web interface.
The web interface provides an overview of environmental measurements with real time sensor data. All measurements are logged allowing users to collect data for trending and capacity management.
Watchdog 15 offers flexible access rights and security settings with up to three access account levels. It offers secure access through the web and supports HTTP and HTTPS protocols. Up to 50 customizable alarms can be configured with alarm escalations per sensor.
Up to four digital sensors can be connected using a standard splitter. A variety of optional plug-and-play sensors are available for use with Watchdog 15 including but not limited to, temperature, humidity, airflow, power usage and more.
Watchdog 15 is a compact solution weighing less than half a pound and sized to fit in a 1U space, which is perfect for tight installments. Watchdog 15 can be used to monitor temperature, humidity and other environmental parameters in a variety of applications including IT, telecom, healthcare, food supply and others.
Easily view and log temperature, relative humidity / dew point and external sensors over the intranet or the Web. No software required - securely access the graphical user interface from a web browser.
-UN models ship with a universal power supply, good for international use.
- NPS models ship with no power supply.
- "P" models designate support for PoE.