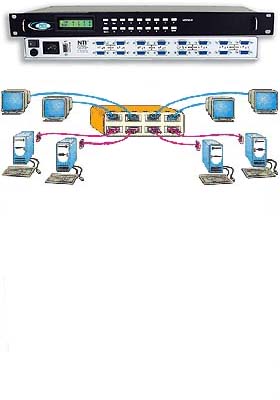 Buy this item and earn 3,715

Club

Points.
Switch Many Computers' Outputs among Multiple Monitors.

VEEMUX™ video matrix switches (also known as video routers) allows you to connect multiple video sources (computers) to multiple destinations (projectors, monitors, etc.). VEEMUX video matrix switches are designed to switch VGA video directly. They eliminate the need for external interfaces and coax cable connections via BNC connectors.

Signals from a range of input sources can be distributed to various output devices, in essence creating a "matrix" pattern of interconnection possibilities. A single computer video output can be routed to one or more monitors. Each image will be as crisp & clear as if directly connected to the original source. Each video output is buffered from each input, insuring signal integrity throughout the system.

This easy-to-use switch is the ideal solution for any application where information from many computers is being presented, such as classrooms, boardrooms, trade shows, conference and entertainment facilities, courtrooms, command centers, and control rooms.

Multiple PCs or laptops can be plugged into the VEEMUX switch. Each computer's video can be easily routed to one or more monitors or projectors. Easy drag-and-drop Matrix Control Software is provided for intuitive and powerful control using an RS232 connection. Users can recall frequently used configurations with the click of a button.