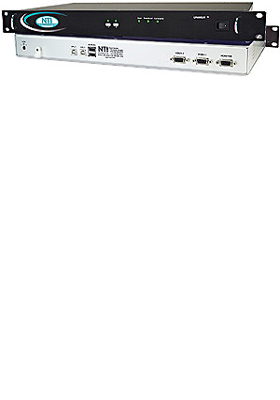 Buy this item and earn 445

Club

Points.
2-Port, Rack-Mount USB KVM Switch with OSD.

Looking for an easy, affordable USB KVM switch? The UNIMUX™ USB switch allows one user to access multiple USB computers with only one USB keyboard, USB mouse, and VGA Monitor.

Dedicated internal microprocessors emulate keyboard & mouse presence to each attached CPU 100% of the time so all computers boot error-free.

Port selection is accomplished by a front panel push button, commands typed on the keyboard, or the On Screen Display menu system.

Features and Benefits
• High quality construction.
• Features NTI's patented true autoboot USB switching - all attached USB PCs, MACs and SUNs can be booted simultaneously.
• Compatible with USB-enabled PCs.
• Compatible with SUN T1000, SUN 1000, SUN V210, SUN Fire™ V240, SUN Fire V20z, and other USB-enabled SUN computers.
• Compatible with MAC G4/G5 and Xserve. Supports MAC soft (keyboard) power-on.
• Crisp and clear 2048x1536 video resolution.
• Fully compliant with USB standards (1.0, 1.1).
• USB MAC and SUN start-up keys are supported.
• SUN extra keys are emulated on USB keyboards with Windows keyboard layouts.
• Supports international keyboard layouts in auto-detection mode.

Keyboard Control
• Use the keyboard to command the switch box to select ports or configure the SCAN delay.

Front Panel Interface
• Touch a button and be connected to a computer, or change modes of operation.
• LEDs indicate currently selected port and mode of operation.

Security
• Advanced security included with OSD option.
• Each user password can be up to 13 characters long, and each switch can store up to 63 users.
• Administrator can enable or disable all security features and select which computers each user can access.
• Once security is enabled, a user or administrator must login in order to access any of the computers connected to the switch.
Cables not included - see listing of compatible cables below.