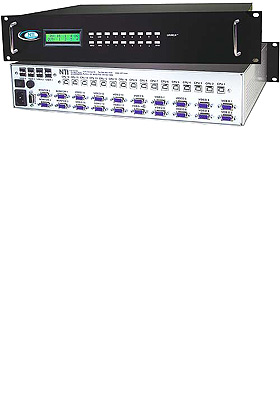 Buy this item and earn 4,939

Club

Points.
UNIMUX™ USB Matrix KVM switch allows up to eight users to individually command or simultaneously share up to 32 USB computers. Access USB-enabled PC, Sun, and Mac computers using USB keyboards and mice, and VGA multi-scan monitors.
USB host computers and USB devices can be hot-plugged or removed at any time. UNIMUX™ USB Matrix KVM switch allows any USB device (keyboard and/or mouse) to control any attached USB host computer. International keyboard layouts are supported in auto-detection mode, or can be manually selected via the On Screen Display (OSD) menu.
Features and Benefits
• Equipped with OSD, Liquid Crystal Display, and RS232.
• Dedicated microprocessors prevent computers from locking up, ensuring reliable control.
• Fully compliant with USB standards (1.0, 1.1).
• Advanced OSD user interface with password security makes the UNIMUX USB Matrix KVM Switch simple and reliable to use in Enterprise data centers.
• Computers can be shared or used exclusively.
• Crestron® compatible. Module controls routing, reset and status RS232 functions.
• Cables not included - see listing of compatible cables below.