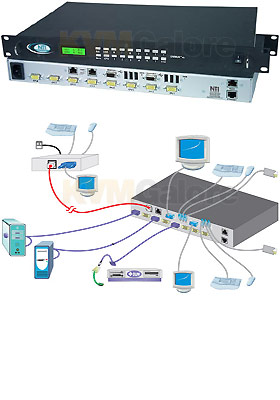 Buy this item and earn 1,627

Club

Points.
High Density, Multi-User, Matrix VGA/USB KVM Switch.
The UNIMUX™ High Density VGA USB KVM Matrix Switch allows up to 4 users to individually command or simultaneously share up to 8 USB computers.
Access USB computers (PC, Sun, and Mac) using USB keyboards and mice, and VGA multiscan monitors.
Features and Benefits
• Saves rack space: 1RU in height.
• Features NTI's patented true autoboot USB switching – all attached computers can be booted simultaneously.
• Compatible with USB computers (PC, Sun, Mac).
• Cascade UNIMUX switches off a single master switch to control up to 256 computers as if from one switch.
• Flash upgradeable.
• High quality steel construction.
• Crisp and clear 1920 x 1200 video resolution.
• Equipped with OSD, Liquid Crystal Display, RS232, and Ethernet.
• Dedicated microprocessors prevent computers from locking up, ensuring reliable control.
• Cabling runs are simplified with NTI's high density KVM switch cables.
• Flash upgradeable