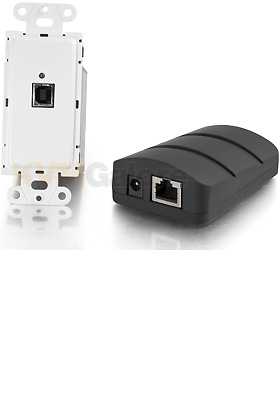 Buy this item and earn 389

Club

Points.
53878: Wall-plate-transmitter to dongle-receiver kit
true USB 2.0 data transfer speeds over standard CAT-5/6 cabling at lengths up to 328 feet
---
For systems integrators, installers and other end users seeking an innovatively simple yet powerful solution for extending USB signals beyond their native 16.4 foot length limitation, C2G offers the Trulink USB 2.0 Superbooster.
Designed specifically for use in commercial environments, Trulink USB 2.0 Superbooster is the only USB 2.0 solution on the market that is available in both a dongle and wall plate version. The wall plate and dongle can be interchanged to fit the needs of any installation requiring high performance and maximum flexibility.
Using true USB 2.0 speed and power, this solution provides increased bandwidth and faster data transfer speeds over standard CAT-5/6 cabling at lengths up to 328 feet.
Integrated UTP power inserter technology provides 500 milliamps of power when the power adapter is connected through the transmitter end or receiver end, depending on the desired configuration. This provides enough power to operate most new USB devices, such as new interactive whiteboards, and allows for flexibility in equipment placement.
The small form factor of both the dongle and wall plate versions allows for easy installation in tight spaces. The dongle end is uniquely designed to allow it to be securely tethered to other equipment, such as a whiteboard. Installation is quick and easy with no software or driver installation required.
Features and Benefits
• Full USB 2.0 speed and power
• Integrated UTP power inserter technology
• Interchangeable design with swappable components – wall plates and dongles
• Extends USB from 16.4 feet up to 328 feet over CAT-5/6 (UTP/STP, solid/stranded)
• Use in a classroom to extend and power interactive whiteboards
• Place a printer in a more convenient location, while the computer is in a secure location
• Add USB cameras or fingerprint readers to remote facilities for added security and monitoring
• Use in healthcare facilities for USB-based digital x-ray applications
• Upgrade existing superbooster infrastructure from USB 1.1 to USB 2.0 for greater performance
• Warranty: 1 Year
Contents
(1) Wall Plate Transmitter
(1) Dongle Receiver
(1) Power Supply
(1) Quick Start Guide
(1) Phoenix Power Connection
(1) 1ft USB A/B Cable
(2) 14 inch Cable Ties