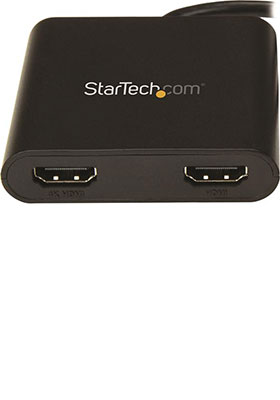 Buy this item and earn 77

Club

Points.
USB32HD2: Connect two HDMI displays to a single USB port
with resolutions up to 4K (for one screen)
---
• Increase your productivity by connecting two independent displays through a single USB 3.0 port
• Add astonishing picture quality to your computer by adding support for resolutions up to 4K
• Get exceptional USB video performance to support your standard business applications
• USB-powered - no external power adapter required
• 2-channel (stereo) audio support
This USB to HDMI® dual-monitor adapter lets you add two independent HDMI displays to your computer using a single USB 3.0 port. One of the HDMI ports can output resolutions up to 4K, while the other can output resolutions up to 1920x1200.
Increases your productivity by providing multiple displays
Adding more displays to your workstation can be difficult, especially if your computer does not support MST or offer many external video ports. This USB to dual HDMI adapter features two video outputs, boosting your productivity by giving you more screen space to work from. With multiple displays you have the freedom to access multiple applications at the same time and reference material on one display while you compose on the other.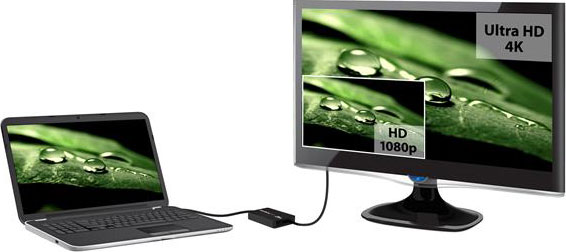 Maximizes your screen real estate with resolutions up to 4K
One of the ports on this USB video adapter supports resolutions up to 4K at 30Hz, meaning you can connect a 4K monitor, HDTV, or projector to your computer, even if your laptop or desktop video card doesn't natively support 4K output. The USB to HDMI 4K adapter lets you extend or mirror your primary display onto an Ultra HD monitor or television, giving you the additional screen space you need to simplify multitasking and maximize your productivity.
Perfect for all of your business applications with USB 3.0 performance
Using the high-bandwidth USB 3.0 interface, this USB 3.0 to HDMI adapter enables smoother scrolling through documents, higher resolutions and better overall performance than earlier USB adapters. This video adapter is intended to support all of your business applications including web browsing, e-mail, spreadsheets and presentations. You can also leave your system video card available for more demanding applications such as gaming or CAD design, while you use the USB monitors for reference material.
Applications
• Add two displays to your workstation
• Run multiple applications on different screens
• Mirror your primary display onto a UHD monitor or television
Included in Package
1x USB video adapter
1x quick-start guide