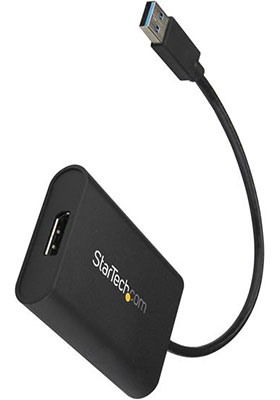 Buy this item and earn 62

Club

Points.
USB32DPES2: Connect an additional 4K DisplayPort display to your PC with USB 3.0 technology
• Add 4K Ultra-HD video support to your computer system through an available USB 3.0 port
• Astonishing picture quality with support for resolutions up to 4K
• USB 3.0 host connection provides maximum bandwidth for 4K Ultra-HD output
• USB-powered - no external power adapter required
• 2-channel (stereo audio) support
This USB to DisplayPort adapter lets you connect your computer to a 4K DisplayPort monitor using a USB 3.0 Type-A port, even if your computer doesn't support 4K video.
Increase your productivity by adding a 4K display
This USB to DisplayPort adapter can boost your productivity by providing more screen space to work with. Having multiple displays gives you the freedom to access two full-screen applications simultaneously, enabling you to reference material on one display while composing on another. The adapter even supports display rotation for a vertical screen that's ideal for viewing spreadsheets, newsfeeds or stock tickers.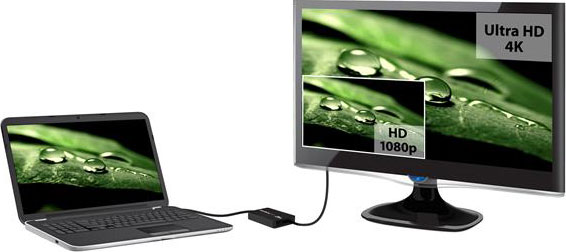 Get astonishing picture quality with 4K video
Even if your system doesn't natively support 4K video output, this USB video adapter lets you enjoy the picture quality of Ultra HD video. With support for 4K at 30Hz, you get sharp and crisp picture quality that's richer and more true-to-life than traditional HD, with far greater detail in both darker and brighter images.
Easy-to-install
The multi-monitor adapter is powered by your computer's USB Type-A port, so you won't need to connect a bulky external power adapter. Plus, the drivers install quickly and easily and only need to be installed once, regardless of how many USB video adapters you want to connect.
Applications
• Mirror or extend your desktop onto an additional display
• View large spreadsheets, or several spreadsheets, across multiple displays
• View data on multiple screens, such as newsfeeds and stock tickers
Included in Package
1x USB video adapter
1x quick-start guide