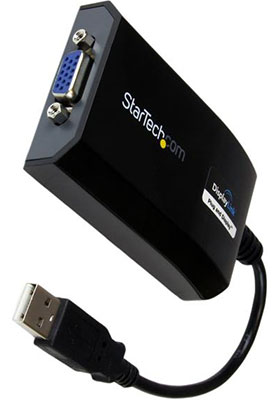 Buy this item and earn 67

Club

Points.
USB2VGAPRO2: Connect a VGA display for an extended desktop multi-monitor solution with USB technology
• Optimal performance at 1920x1200 and ideal for use with 24" to 26" monitors or smaller
• Support for Aero themes in Windows®
• Works with Mac® OS X
• USB-powered - no external power adapter required
• Connect up to five adapters on a single system
USB2VGAPRO2 USB to VGA adapter functions as an external graphics card for Windows® and Mac® computers - the perfect solution for turning your desktop or laptop computer into a dual or multi-monitor environment, all through the simplicity and convenience of USB.
The USB-VGA adapter delivers high quality video (up to 1920x1200) for a variety of applications and is capable of simultaneously running up to five additional displays from a single computer (using four USB2VGAPRO2 external video adapters). The adapter connects to a host computer through a USB 2.0 port, acting as an external VGA video card to either extend or mirror the desktop shown on the existing display - without having to open the computer case.
Featuring driver support for Microsoft Windows® (including Aero themes) and Mac OS X, and with video support for resolutions up to 1920x1200, this USB-VGA video adapter is the ideal solution for a wide rade of operating environments as well as large-screen displays/monitors.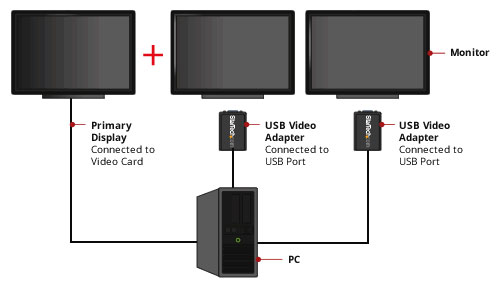 The StarTech.com Advantage
• The graphics adapter supports high-performance requirements and high resolution video, making it suitable for connecting large-screen monitors
• USB-powered operation eliminates the need for an external power adapter, enabling you to position an additional monitor without having to make the extra power connection or carry an additional cable for mobile applications
• Completely external device offers a simple upgrade solution saving the cost and hassle of upgrading the internal video card on your system, which in many cases would void manufacturers' warranties
Applications
• Add multiple (up to five) monitors / projectors to your computer setup using one USB2VGAPRO2 device for each additional display
• View large or multiple spreadsheets across multiple displays
• Increase productivity by running multiple applications on different VGA screens; check your email on one display while editing a document on the other
• Use the USB-VGA adapter to connect your PC to your television for showing family pictures and movies
• Connect multiple VGA monitors to a single computer to create engaging multimedia presentations
• Great for researchers and writers offering the ability to have reference material on one display and a working document copy on the other
Included in Package
1x USB to VGA Adapter
1x Driver CD
1x Instruction Manual