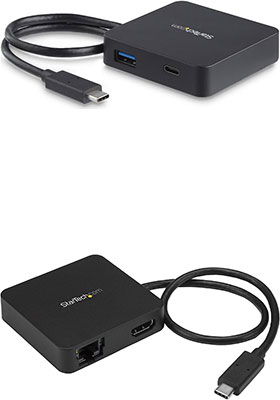 Buy this item and earn 68

Club

Points.
USB-C multiport adapter
with 4K HDMI, 2x USB 3.0 ports and wired Gigabit Ethernet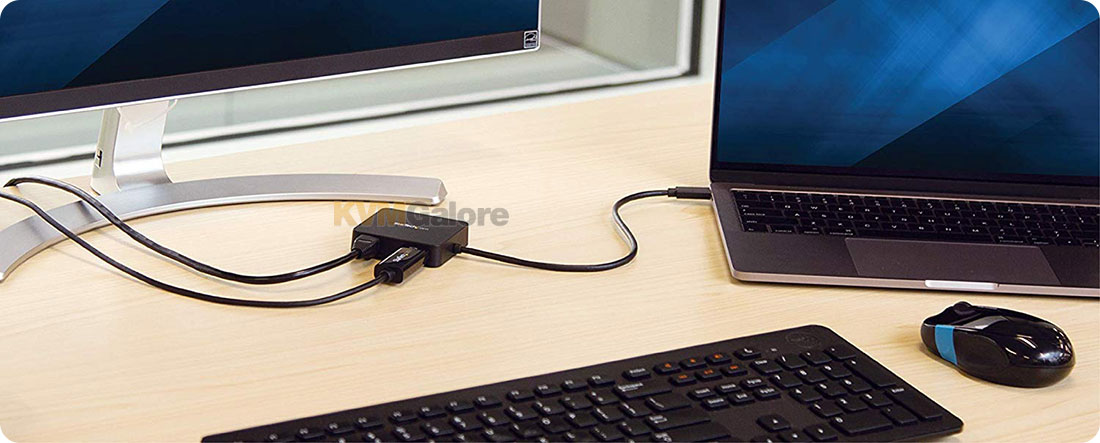 • USB Type-C docking port
• Add 4K HDMI, Gigabit Ethernet, USB Type-A and USB Type-C ports to your USB-C or Thunderbolt 3 compatible Windows or MacBook laptop
• Bus-powered, supporting USB 3.0 (up to 5Gbps)
Expansion Ports
1x USB 3.0 Type-C
1x USB 3.0 Type-A
1x HDMI
1x RJ45 Gigabit Ethernet
This TAA-compliant USB-C multiport adapter with HDMI combines the capability of three single-function adapters, a USB-C video adapter, USB Type-C to USB Type-A adapter, and Gigabit Ethernet adapter, into a portable docking station for your laptop. You can connect a 4K HDMI display and two USB 3.0 devices (1x USB Type-A, 1x USB Type-C), and get high-speed network access, all through a single cable. The USB-C multiport adapter also is compatible with Thunderbolt 3 ports.
Add a 4K Ultra-HD Monitor
With HDMI output, this USB-C multiport adapter makes it easy to expand your virtual workspace onto an external 4K HDMI monitor. The adapter supports resolutions up to 40962160 (24Hz) or 38402160 (30Hz), as well as audio.
Reliable Network Access
The USB-C multiport adapter ensures a reliable wired network connection with a Gigabit Ethernet port, which is ideal for areas with limited Wi-Fi access such as in classrooms, office buildings and hotels.
Connect Your USB Devices Easily
With two USB 3.0 ports (1x USB Type-A, 1x USB Type-C) you get access to traditional USB Type-A devices, as well as newer USB Type-C devices you add in the future.
Bring Productivity with You Wherever You Go
With its compact design and bus-powered performance, the portable multiport adapter is easy to take with you anywhere you take your laptop. The adapter features a pre-attached USB-C cable, so you have one less cable to carry when you're on the move.
Features and Benefits
• Easily connect an external 4K Ultra HD display (4096x2160 @ 24Hz or 3860 x 2160p @ 30Hz)
• Connect peripheral devices to the USB Type-C port and USB Type-A port (backward compatible with USB 2.0 and 1.x)
• Reliable, fast network connections with a Gigabit Ethernet port (RJ45), ideal for areas with limited Wi-Fi
Applications
• Ideal for mobile use
• Integrate into small workspaces in offices and home offices
Notes
• Not all USB-C ports support the full functionality of the USB Type-C standard. Ensure that your laptop USB-C port supports DP alt mode.
• A 4K-capable display is required to achieve 4K x 2K resolution (4K is also known as 4K x 2K).
• USB 3.0 is also known as USB 3.1 Gen1; this connectivity standard offers speeds up to 5Gbps.
• The USB Type-C connector (female) is data only.