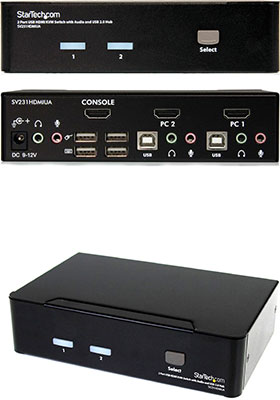 Buy this item and earn 161

Club

Points.
SV231HDMIUA: Share a keyboard, mouse and HDMI® monitor between two multimedia computers
with audio support and a USB 2.0 hub for peripheral sharing
---
• Supports push button and hotkey PC switching
• Integrated USB 2.0 hub - share USB peripherals between PCs
• Supports digital video up to 1080p
• No software drivers required - OS independent
• Supports both digital HDMI audio and 3.5mm analog audio
• Independent audio switching
• Audible tone to indicate PC switching
• User-defined scan-time intervals
• Manual video adjustments via rear function button
SV231HDMIUA 2-port USB HDMI® KVM switch lets you control two USB-enabled multimedia computers or devices with HDMI video interfaces, using a single peripheral set/console (USB keyboard, mouse, monitor, speakers and microphone).
A highly versatile KVM solution, the USB HDMI KVM switch features an integrated 2-port USB 2.0 hub that lets selected computers access shared high speed USB devices, eliminating the cost of duplicate USB peripheral purchases.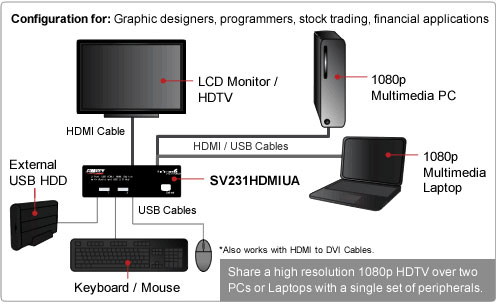 Ensuring high quality video capability, the HDMI KVM switch supports HD resolutions of up to 1920x1200. Offering genuine digital signal transmission over the cable, this switch can be used to share one HD panel between multiple HDMI sources such as Blu-ray players, video game consoles and HD media centers.
The switch also supports audio and microphone switching functions and allows you to select connected computers, USB device hub ports and audio/mic channels either simultaneously or independently using either front-panel push-buttons or keyboard hotkeys.
The StarTech.com Advantage
• Eliminate duplicate display expense by sharing one set of peripherals and a single display or TV between a game console (Xbox360 or Playstation PS3) and PC
• Versatile audio support for both HDMI® audio and 3.5mm analog audio
• Integrated USB 2.0 hub and mic/audio ports allow the user to have full multimedia control of two computers and share USB peripherals eliminating the expense of duplicate devices
Included in Package
1x 2-port HDMI KVM switch
1x Package of rubber feet
1x Power adapter
1x User manual
Cables not included
Required Cables (per port)
1x HDMI, male-male
1x USB, Type-A to Type-B
2x 3.5mm audio cables, male-male