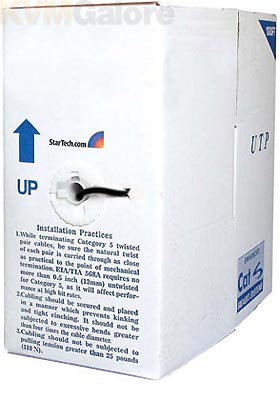 Buy this item and earn 190

Club

Points.
WIRC6PATBKRL: CAT-6 500 MHz stranded UTP patch cable
black, 1000-feet
---
StarTech.com's Category 6 cable is the perfect way to connect your emerging Gigabit network. Category 6 cables improve upon the Category 5e specification by providing twice the available bandwidth (up to 500 MHz), and a signal-to-noise margin improvement that is sixteen times (12dB) better than that provided by CAT-5e.
StarTech.com's CAT-6 cable is constructed by a highly trained staff using top quality components that ensure the final product meets strict standards for reliability. Backed with a lifetime warranty, these cables help StarTech.com maintain its tradition of offering top-notch parts and products for the best price possible.
The StarTech.com Advantage
• Category 6 offers the ultimate in network performance
• Enjoy the low cost savings by buying bulk CAT-6 cables
Applications
• CAT-6 Stranded UTP patch cables offer a complete wiring solution for your home, office and other environments
• Can be used in any 10 Base-T, 100 Base-TX or 1000 Base-TX (Gigabit Ethernet) network
Features and Benefits
• Lifetime warranty