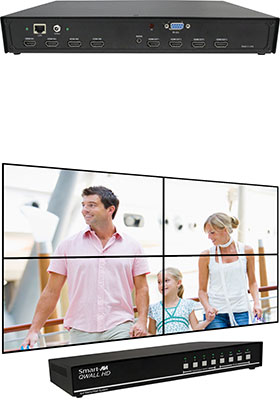 Buy this item and earn 1,724

Club

Points.
QWall-HD-S: 4x4 HDMI matrix and video-wall processor
can be controlled from anywhere through web browser
---
To create a four-screen video wall with four HD video inputs, QWall-HD video wall controller and matrix provides a truly simple plug-and-play hardware solution with incredible 1080p resolution. With four inputs and four outputs, users can arrange their content in numerous ways, providing unique functionality by combining the abilities of a video wall hardware controller and a matrix.
QWall-HD is HDCP compliant.
Users can stretch one large image over four screens, or send an input to each screen. QWall-HD showcases Ultra-HD picture quality, as well as digital audio output over HDMI. Better still, there's no software required, as all content management options are effortlessly controlled via QWall-HD video wall controller unit itself. There's no need for drivers or updates, just connect the HD inputs and HD screens to the controller and it's ready to go.
A Complete HD Video-Wall Experience
With four HDMI inputs, four HDMI outputs, and support for 1080p resolution, QWall-HD delivers the ultra-high definition premium content that audiences expect with the added bonus of full digital audio. Furthermore, this video wall controller and matrix switch enables users to craft engaging messaging and attractive branding with ease. With numerous options for how each input is displayed, there's no limit to the unique and exciting content options with this user-friendly hardware solution.
Changing content inputs, re-directing what content shows on which screens, and re-orienting content layouts is as simple as the click of a button. Users don't have to learn any new programs or dedicate a computer to managing QWall-HD.
Integrated Web Server
This user-friendly web app gives users all the video configurations found on the box, but through remote access.
Available Configuration


Video-wall mode: User can select any of the four HD inputs and project the image across four HD screens (2x2 configuration).




Clone mode: User can select any of the four HD inputs and project the image individually on all four HD screens, with supported resolution up to 1920x1080 on each screen.



Matrix mode: User can quickly assign inputs to their desired output.


Splicing mode: User can splice the input to do different matrix arrays (i.e. 1x2, 2x1, 1x3, 3x1, 1x4, 4x1).
Features and Benefits
• Complete hardware solution – no need for a PC
• Plug-and-play ready
• Four HDMI inputs and four HDMI outputs
• HDMI digital audio output
• Learns any EDID
• Built-in database
• Ethernet control-ready
• Multiple screen modes and picture flip functions
• Easy control and access
• HDMI 1080p
• Supports IR and RS-232
• 1920x1080p resolution
Package Includes
1x QWALL-HD
1x IR remote control
1x Power adapter [PS12VD3A-WLLMNT]
Cables are not included
Required Cables (per port)
1x HDMI cable