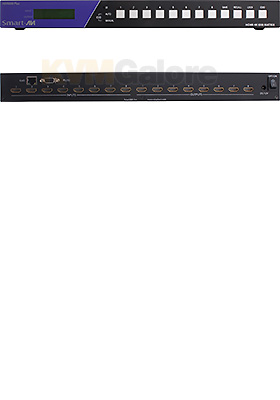 Buy this item and earn 1,424

Club

Points.
HDR-8x8-PLUS-S: 8x8 HDMI matrix switch
delivers 4K resolution while switching eight (8) signals between eight (8) displays up to 20 feet away, with IR remote control included
---
With HDR-8x8-Plus, users can independently route eight video inputs to eight displays using the latest in 4K (3840x2160 @ 30Hz) HDMI video technology.
HDR-8x8-Plus has eight outputs that offer the flexibility to distribute HD audio and video signals across multiple displays, eliminating the tedium of disconnecting and reconnecting HDMIs to a single display.
Controlling the matrix switch is simple with the front-panel buttons, the included infrared remote control and the RS-232 port. Even use the TCP/IP controls to manage the unit from a web browser.
The perfect multi-switch solution for your home theatre system, HDR-8x8-Plus is compatible with computers, live HD TV feeds, Blu-ray players, gaming consoles, video cameras and more.
Features and Benefits
• 4K Input/Output (3840x2160 @ 30Hz)
• 8x8 Non-Blocking, HDMI Matrix Switch
• Distribute any eight inputs to any eight HDMI output displays
• EDID Learning Mode
• Includes IR Remote
• Supports RS-232 Control
• HDCP and HDMI 1.4 Compliant
• SmartAVI PC Software
• Integrated TCP/IP Controller
Package Includes
• 4K 8x8 HDMI Router [HDR-8x8-Plus]
• RC-5 Remote Control [SRC-2A]
• Power Supply [PS12VDC4A]