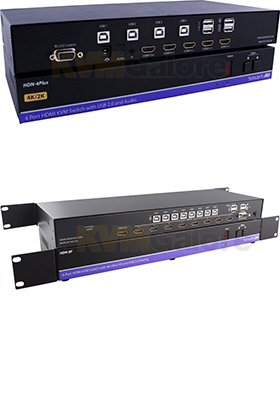 4- and 8-port 4K Ultra-HD HDMI KVM switches with USB 2.0 peripheral sharing
HDMI/USB 4K KVMP switches are dedicated multi-platform KVM switches capable of managing four or eight computers through a single HDMI monitor, USB keyboard, USB mouse, and other USB 2.0 peripheral devices. These are the first KVM switches on the market that feature support for 4K Ultra-HD (3840x2160 @ 30Hz or 4Kx2K @ 60Hz YUV4:2:0) workstations.
USB emulation technology utilized by HDMI/USB 4K KVMP switches enable immediate hot key source switching through a remote USB keyboard and mouse. HDMI/USB 4K KVMP switches are HDCP compliant, which support 4K Ultra-HD resolutions and 12-bit deep color at 1080p @ 60Hz. RS-232 control and front panel switching are supported. The switches also transmit digital audio, while 4-port models also support analog audio.
HDN-4P - 4-port 4K Ultra-HD (30Hz); audio; USB 2.0 peripheral sharing
HDN-8P - 8-port 4K Ultra-HD (30Hz); USB 2.0 peripheral sharing
UHDN-4P - 4-port 4K Ultra-HD (60Hz); audio; USB 2.0 peripheral sharing