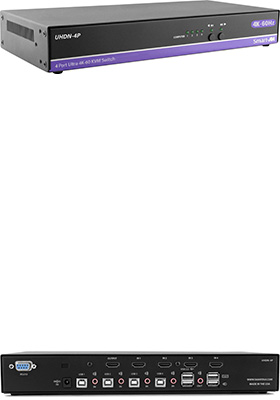 Buy this item and earn 409

Club

Points.
UHDN-4PS: 4-port 4K Ultra-HD (60Hz) HDMI KVM switch
with audio support and USB 2.0 peripheral sharing
---
UHDN-4P is a multi-platform 4-port, HDMI KVM switch with Ultra-HD 4K/60Hz resolution video emulation. It can control keyboard-mouse functions on up to four computers, and it emulates video from HDMI source devices. Built with Ultra-HD ready HDMI outputs, UHDN-4P is the first HDMI KVM switch on the market to offer full 4K at 60Hz directly from the device.
UHDN-4P features EDID-assisted HDMI emulation, which ensures visual workspaces and screen resolutions are remembered every time it connects to a new system.
UHDN-4P is HDCP compliant, supporting screen resolutions up to 4K Ultra-HD (3840x2160 @ 60Hz) with responsive EDID emulation. Additionally, UHDN-4P is USB peripheral-friendly, compatible with printers, keyboards, and mice. UHDN-4P is also easy to control with both a simple front-panel interface, as well as RS-232 or hot-keys.
UHDN-4P is the perfect control solution for supervisors and administrators, allowing them to take command of keyboard and mouse functions on remote systems with the press of a button.
EDID pass-through and recognition
UHDN-4P features EDID pass-through technology and source recognition, which enables smooth and efficient switching in virtually any scenario. This plug-and-play EDID functionality makes set up hassle free and simple.
Full USB keyboard and mouse emulation
The USB keyboard and mouse emulation utilized by UHDN-4P provides quick source switching via keyboard hot keys. UHDN-4P simulates the presence of a keyboard and mouse for every attached computer. This essential function simulates keyboard and mouse control for all connected computers, so switching between each is kept seamless and completely uninterrupted.
Real-world applications
UHDN-4P excels in any professional multi-system environment, especially those where high resolution video plays a crucial role in every day workflow. Ultra-HD 4K KVM switching is a great fit in environments like server hubs, control rooms, production studios and post-production houses, transportation facilities like airports, hospitals and medical centers, and corporate IT service centers.
UHDN-4P has a broad range of applications, but the main function is to centralize the access of up to four computers with HDMI displays. Not only does it function as a KVM console, but it also supports USB 2.0 functionality. This allows users to access nearby USB devices, including those not supported by other KVM switches. UHDN-4P is the ideal solution for medical, industrial, studio and defense applications, where it is not practical or safe to have multiple CPUs in the vicinity of the workstation.
Server hubs
Retail spaces
Educational facilities
Airports
Dealer rooms
Hospitals/medical care
Control rooms
Audio/visual presentation spaces
Restaurants and eateries


Flexible control
UHDN-4P offers simplified management between four HDMI equipped computers' USB 2.0 outputs. Keyboards, mice, and other connected USB peripherals can be switched between with ease. This dynamic KVM switch can be controlled via hot keys or RS-232 commands, as well as directly through the console's easy-to-read front panel.
• Front panel buttons: Switch between computers you wish to control and emulate with simple SELECT buttons on UHDN-4P's front panel.
• RS-232: Any external device or program supporting RS-232 can control UHDN-4P. UHDN-4P uses very simple protocol that enables easy integration with other devices.
• USB/keyboard: Control switching functions of UHDN-4P using programmable Hot Keys on a connected USB keyboard.
Features and Benefits
• Supports video resolution of up to Ultra-HD 4K (3840x2160) @ 30/50/60Hz
• Supports 3D
• Supports LPCM, Dolby-AC3, DTS7.1, and DSD/Dolby TrueHD/DTS-HD master audio
• Supports HDMI 1.3, 1.4, & 2.0
• HDCP compliant
• Control up to four computers with a single console
• Full EDID HDMI video emulation
• Zero pixel loss with TMDS signal correction
• Supports USB keyboard-mouse emulation
• Supports all USB 2.0 peripheral devices
• Optionally rack mountable
• Hot key commands for quick channel selection
• Independent (asynchronous) switching of KVM and peripheral USB ports: Users can scan a document and save onto another computer
• Complete KVM emulation for error free booting
• Easy switching via front-panel, RS-232 or hot keys
• Full HDMI support, backwards compatibility
Package Includes
• UHDN-4P switch
• PS5VD4A power supply
• Cables not included
Required Cables (per port)
1x HDMI, male-male
1x USB, Type-A to Type-B
1x 3.5mm audio cables, male-male