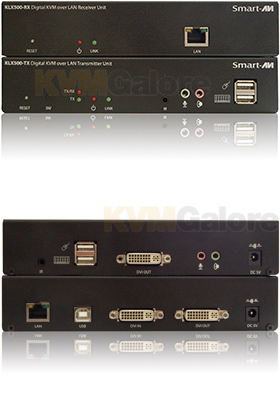 KLX-500
Single- or dual-DVI/VGA and USB KVM+audio extenders (with local access) via 500-foot CATx or unlimited distance over IP via one-Gigabit LAN
Read more below...


2) KLX-500-Duo Model No. KLX-500-DUO-S Usually ships within 7 business days or less
$688.00
MSRP: $918.00 -
You save $230.00
DVI/VGA and USB KVM+audio extenders via CATx and/or LAN
KLX-500 breaks distance barriers to extend DVI/VGA video, USB keyboard/mouse and IR signals over IP using CAT-5e/6 cables.
To extend keyboard, video and mouse (KVM) operation of DVI and VGA connections, KLX-500 extender provides 500 feet of connectivity using the CAT-5e/6 cables used in LAN infrastructure. Users can add additional extenders to break the distance barriers for KVM extension with DVI or VGA video. In addition to KVM operation, this compact unit also transmits audio.
KLX-500 is ideal in preconfigured work environments because it allows users to employ the preexisting LAN infrastructure commonly available in office environments. Users can also choose to set up their own cabling, if they so choose.
KLX-500 supports full USB emulation and 1080p HD video up to 1920x1080 resolution at 60Hz. With plug-and-play functionality, there are no drivers or software installations required. With stable connections, there's no easier way to implement increased distance in KVM management.
KLX-500 compresses data to utilize CAT-5e/6 cables, but users will see no degradation of signal when using one gigabit Ethernet connections and up. For users utilizing preexisting LAN connections, implementing a one gigabit switch allows for signal extension with full resolution. Users with smaller bandwidth will experience compressed signal if they decide to forgo the additional switch.
KLX-500: Single video
KLX-500-Duo: Dual video