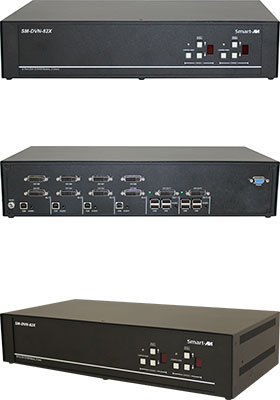 Buy this item and earn 764

Club

Points.
8-port, 2-user DVI/HDMI matrix KVM switch
with audio support and USB 2.0 sharing
---
• Supports video resolution up to 2560x1600 @ 60Hz
• Supports additional USB 2.0 devices like printers, scanners, web cameras and more
• Flash upgradeable firmware
• Hot-key commands for quick port selection
• Independently switch KVM and peripheral USB/audio ports
• Complete keyboard emulation for error free booting
SM-DVN-82X is a DVI/HDMI KVM switch capable of managing 8 computers through two user consoles (2x monitors, 2x USB keyboard and mouse, and 2x sets of speakers), and share USB devices such as printers, memory devices, scanners, etc. With multi-user support, SM-DVN-82X can accommodate up to 2 users, simultaneously accessing and concurrently controlling anyone of the eight connected computers.
The video connectors on the unit are DVI-D, which allows support for HDMI using active adapters or cables. When using a DVI or an HDMI monitor, computers can be a mix of either DVI or HDMI.
SM-DVN-82X supports video resolution of up to 2560x1600 @ 60Hz with zero pixel loss from TMDS signal correction.
SM-DVN-82X can be utilized concurrently by up to 2 users, allowing for efficient usage and sharing of computing resources. The front panel console permits each user to easily access and switch between the connected computers. The centralization of input computers and user access consoles reduces the amount of cabling and the number of workstations required for complex computing environments, thereby facilitating organization and simplicity.
The main function of this KVM switch is to centralize the access of several computer into a single, comprehensive KVM station. Its USB 2.0 support allows users at the console to access USB devices that would otherwise be unavailable on conventional KVM switches. For example, it allows the use of a flash memory drive or camera without having to plug it directly into the remote computer. SM-DVN-82X is a perfect solution for the medical or industrial field where it may not be practical or safe to have one or more CPUs in the general vicinity.
Flexible Control
Any external device or program supporting RS-232 can control SM-DVN-82X. SM-DVN-82X uses a very simple protocol, enabling easy integration with RS-232 control devices.
Hot-key functionality enables the user to switch and control all the different functions of the KVM switch by using the keyboard.
Flexible Sharing - Independent and Simultaneous Device Selection
SM-DVN-82X enables the use of a USB keyboard and mouse on one computer while other USB peripherals such as speakers, scanners and printers are connected to other computer sources. SM-DVN-82X maintains the ability to switch all connected devices to any one of the computer sources as with any other KVM switch on the market.
Features and Benefits
• DVI-D dual-link video connectors
• Supports for a mix of DVI dual-link, DVI single-link and HDMI (via active adapters or adapter-cables) computers
• Supports all major operating systems such as Windows, Mac, Linux, Sun, Unix, DOS, etc.
• Supports video resolution up to 2560x1600 @ 60Hz
• Zero pixel loss with TMDS signal correction
• Supports USB keyboard and mouse
• Supports additional USB 2.0 devices such as printers, scanners, web cameras and more
• Rack mountable in a standard 19 inch rack
• Flash upgradeable firmware
• Stereo audio support
• Front panel keys for manual port selection
• Hot-key commands for quick port selection
• RS-232 for remote control
• Independent (asynchronous) switching of KVM and peripheral USB/audio ports (users can listen to audio from one computer while working on a different computer, or scan a document and save it on another computer)
• Complete keyboard emulation for error free booting
Package Includes
1x SM-DVN-82X switch
1x PS12VD2A power supply
• Cables are not included (see listing below for compatible KVM cables needed per port)