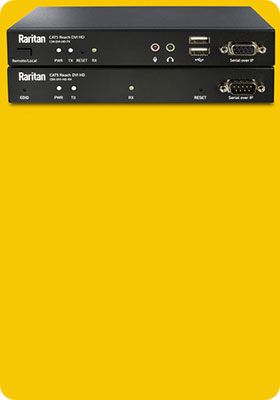 Buy this item and earn 922

Club

Points.
C5R-DVI-HD: High-quality, secure extended access to PCs, servers and KVM switches
DVI and VGA video; USB keyboard/mouse; USB 2.0 peripherals; RS-232; 330 feet over CATx
---
Minimize your risk, store your PCs, servers or KVM switches in secure, non-harsh environments, while still having remote access and control.
The latest generation of Raritan's DVI HD KVM extender over CAT-5 provides 1080p/60fps HD video quality while enabling remote access to DVI and VGA ports on PCs, servers or KVM switches.
The remote user console (USB keyboard/mouse, video, audio and USB peripherals) can be located from 330 feet (100 m) away from the device (or up to 3300 feet (1000 m) via Ethernet switch daisy-chaining) enabling storage in separate, secure, non-harsh environments.
Cat5 Reach DVI HD supports for a wide range of configurations and Raritan KVM switches. The solution also provides support for speakers and microphones. Dual console support enables both local and remote control.
Local and Remote Console Access
Dual console support enables local and remote control up to 330 feet via a single Cat5 cable (3,300 feet via daisy-chained Ethernet switches) away from the remote device.
Multiple Connections
The remote user console supports USB keyboard, USB mouse, USB peripherals, DVI/VGA video, audio speaker, microphone, EDID emulation, and a serial device.
Superior Video Resolution
Up to 1920x1200 high definition video resolution and video sharing to multiple receivers via Ethernet switches.
Broadcasting Connections
One transmitter can be connected to multiple receivers so that more than one remote user can view the computer or audio/video device connected to the transmitter. This is for broadcasting applications such as demo room or show room. This Broadcast Extension is supported by connecting both Transmitter and Receiver units to a Gigabit Ethernet switch (Jumbo Frame and IGMP v2) and it supports video only (no keyboard/mouse or other USB devices are supported).
Easy to Install; Easy to Use; Easy to Maintain
Cat5 Reach DVI-HD includes a transmitter and receiver pair for use with a CATx UTP cable. Plug a keyboard, video and mouse to the receiver and operate. The video quality is automatically adjusted - no manual adjustments are required. User can easily upgrade the firmware by the Web User Interface.
Features and Benefits
• Access anywhere - Extend keyboard, video and mouse signals from 330 to 3300 feet
• High Quality Video - VGA or DVI video supported at maximum resolution up to 1920x1200 @ 60Hz and 1920x1080 @ 60fps (frames per second)
• Minimize Risk - Remotely access PCs, servers or KVM switches located in separate, secure, non-harsh environments
• Compatibility and Flexibility - Supports a wide range of configurations and Raritan KVM switches. Also supports USB devices, such as touch screen, USB printer, USB barcode reader, USB thumb drives
• Support for USB 1.1 keyboard, mouse and
• Support for USB 2.0 peripherals such as thumb drives, card readers, touch screens, USB printers, USB barcode readers etc.
• Support for connection of RS-232 peripheral (serial) devices
• Push button control of local and remote access
• Support for audio speaker and microphone
• Video share by multiple receivers via Gigabit-Ethernet switches
• One-to-many AV broadcast by using daisy-chained gigabit Ethernet switches
• Three cyclic console switching modes: (1) Tx & Rx / (2) Rx only / (3) Tx only
• Bidirectional audio analog line-in/line-out extension
• Configuration settings & firmware upgrade though Web User Interface
• Rackmount kit for mounting on the rack or shelf
• Firmware upgradeable
Package Contents
1x C5R-DVI-HD-TX transmitter
1x C5R-DVI-HD-RX receiver
2x DC 5V 3A power adapter
2x DVI-I to VGA adapter
1x 1.8-meter audio/microphone cable
1x USB Type-B to USB Type-A adapter cable
1x DVI cable
2x Rack-mount kit
1x Quick Setup Guide