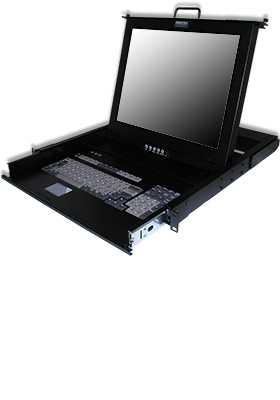 Buy this item and earn 999

Club

Points.
RCT-SU119S: 19-inch, 1U rack-mount flat-panel LCD USB KVM console drawer
Using only 1U of EIA rack space (1.75" high), Sylphit-USB rack-mount integrated KVM computer console is designed to interface with a USB server in a space-saving 19" rack-mount applications.
Sylphit-USB KVM drawer features a fully functional 105-keys Windows keyboard (including a dedicated numeric keypad), an integrated touch-pad pointing device, and an active TFT LCD flat panel display – protected by anti-glare tempered glass.
Controlling a stand-alone USB server or interfacing with a USB KVM switch, Sylphit USB features a 19" laptop-style tilting flat-panel display that requires little pullout to tilt open and – as a result – hardly protrudes into the aisle space in front of the rack.
Equipped with industrial-grade heavy-duty slide-out rails with depth-adjustable rear mounting support, Sylphit USB KVM drawer can be mounted in any standard 19" 4-post rack available in the market.
Sylphit USB features a single USB interface typically used to connect to a stand-alone USB KVM switch, or to one USB computer.
Sylphit USB features a special HD15 connector, and ships with one (1) 6-foot integrated (all-in-one) KVM cable that interfaces with the host's VGA video, USB keyboard and USB mouse.
Features and Benefits
• Only 1U (1.75" high) of vertical 19" rack-mount space
• Laptop-style tilting display provides for short pull-out and minimal intrusion into the aisle space in front of the rack
• Anti-glare tempered glass protects the flat-panel display, adding enhanced visibility
• High-brightness and high contrast-ration active TFT LCD flat panel integrated folding display
• 19" display supporting 1280x1024 resolution
• Full 105-keys Windows keyboard (including a dedicated numeric keypad), and an integrated touch-pad pointing device
• Industrial-grade heavy-duty steel construction. with a built-in lock to prevent unauthorized console access
• Adjustable rear mounting support, up to 42-inches in depth
• Smooth-operating sliding rails that self-lock when pulled all the way out
• Built-in thumb screws for securing the unit when folded and pushed all the way in
• 2-year warranty. Extended warranty available
Comes with:
1x Sylphit-USB KVM LCD KVM drawer unit
1x 2-in-one KVM cable, 6-feet
2x Rear extension mounting brackets
1x Power cord