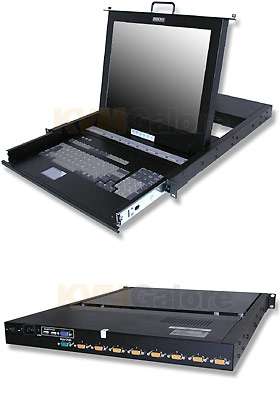 Multi-platform (USB-PS/2) rack-mount 19" or 17" LCD flat-panel KVM console drawers
with integrated 8- or 16-port USB-PS/2-VGA KVM switches
---
Using only 1U of EIA rack space (1.75" high), Sylphit-MP rack-mount integrated KVM computer console is designed to interface with any mix of USB and PS/2 servers in a space-saving 19" rack-mount applications.
Sylphit-MP KVM drawer features a fully functional 105-keys Windows keyboard (including a dedicated numeric keypad), an integrated 2-button touchpad pointing device, and an active TFT LCD flat panel display – protected by anti-glare tempered glass.
Controlling multiple USB and PS/2 servers, Sylphit-MP features a 19" or 17" laptop-style tilting flat-panel display that requires little pullout to tilt open and – as a result – hardly protrudes into the aisle space in front of the rack.
Sylphit-MP also features the ability to connect a 2nd (external) console (VGA monitor and USB keyboard/mouse). This feature is facilitated through two (2) industry-standard USB Type-A connectors and one (1) HD15 VGA (female) video connector at the back of the unit.
Equipped with industrial-grade heavy-duty slide-out rails with depth-adjustable rear mounting support, Sylphit-MP KVM drawers can be mounted in any standard 19" 4-post rack available in the market.
A multi-port console/switch (with integrated KVM switch)
Sylphit-MP feature a built-in, fully integrated 8- or 16-port multi-platform (USB and PS/2) KVM switch.
Port expansion is supported via a dedicated cascading port that facilitates the connection of up to seven (7) more levels of KVM switches, to control up to 128 servers.
On-screen-display (OSD) allows assigning names to the attached servers, and selecting them by name. OSD also provides search-by-name capability. Alternatively, server selection can be achieved via channel push-buttons, or hot-key keyboard combination.
Sylphit-MP has an auto-scan mode for automatic monitoring of attached servers, and a built-in support for eight-character user-password security protection.
Sylphit-MP features eight or sixteen special HD15 server-connectors. Integrated (all-in-one) USB KVM cables (with USB keyboard/mouse and VGA video connectors on the server end) or PS/2 (3-in-one) integrated KVM cables (with PS/2 keyboard, PS/2 mouse and VGA video connectors on the server end) are available [purchased separately] at various lengths.