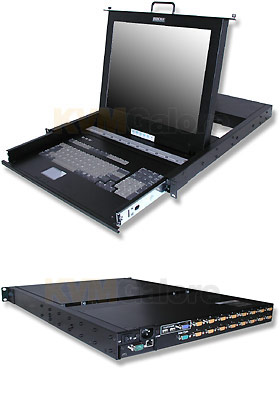 19" or 17" LCD screen KVM over IP rack-mount console-drawers
integrated with 8- or 16-port KVM over IP switch, controlling USB and PS/2 servers at the rack, and from around the world
---
Using only 1U of EIA rack space (1.75" high), Sylphit-IP are LCD KVM console-drawers/switchs designed to answer today's needs of local KVM management at the rack along with remote access over IP, with built-in flexibility and modularity that supports growth.
Combining excellent server rack management with real-world remote-access needs, Sylphit-IP feature a built-in IP module, providing a remote administrator anytime, anywhere access to all servers over IP (Internet, WAN, LAN) from a standard Web browser.
Sylphit-IP LCD KVM drawers support any mix of USB and PS/2 servers utilizing 6- 10- and 15-feet (coax) KVM cables (PS/2 or USB) to connect to any mix of USB and PS/2 servers.
Sylphit-IP also feature a 19" or 17" front-folding laptop-style active TFT LCD flat-panel tilting display that requires little pullout to tilt open, and – as a result – doesn't protrude into the aisle space in front of the rack.
Sylphit-IP MIK-1617: 16-port switch; 17" LCD
Sylphit-IP MIK-1619: 16-port switch; 19" LCD
Sylphit-IP MIK-817: 8-port switch; 17" LCD
Sylphit-IP MIK-819: 8-port switch; 19" LCD