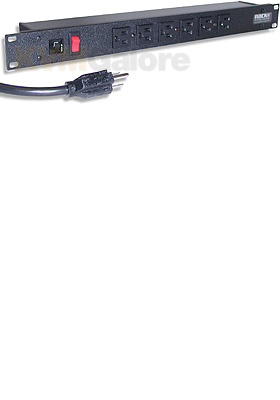 Buy this item and earn 10

Club

Points.
RCT-PS-6619F: Rack-mount surge protector - 6 front receptacles; 15 Amps
Rackit's high performance, computer grade rack-mount surge protector power distribution unit (PDU) provides advanced protection for critical electronic and communications equipment.
By dissipating and diverting excess voltage, Rackit's surge protection PDU keeps your critical systems functioning properly.
With 6 outlets facing the front, Rackit's rack-mount PDU fits standard 19" racks. With a 1U form factor (only 1¾" high) Rackit's rack-mount PDU gets rack-mounted onto server racks, relay racks, wall-mount racks or any Telco rack conforming to 19" EIA rack-mount standard.
Features and Benefits
• 6 receptacles facing the front.
• 15 Amps.
• All lines are protected. Units provide surge protection on all three modes (L-N, L-G, and N-G). Units also have thermal protection on all three lines.
• Outstanding protection against harmful surges.
• EMI /RFI noise reduction. Protect against data disruption due to electromagnetic or radio frequency interference.
• Standard 1½" center-to-center spacing between receptacles.
• Space saving. Rack mount unit fits standard 19" server racks and Relay racks with compact 1U design that takes up minimum space.
• Aesthetically pleasing. Rack mount unit has a black matte finish and a black cord.
• Cord properly rated to load requirements. 15A units have a 14/3 SJT cord and a NEMA 5-15P plug.
• On/Off lighted switch on the front panel, allowing shutting down power to all outlets at once.
• Protection indication. All units have a protection indication light to show the status of the unit.
• Resettable circuit breaker. Provides overload protection.
• UL and cUL Listed or Recognized. Rack mount units are UL and cUL recognized to both UL1363 and UL1449, Third Edition.